Everyone has that moment when they wake up and they are just not happy with themselves - myself included!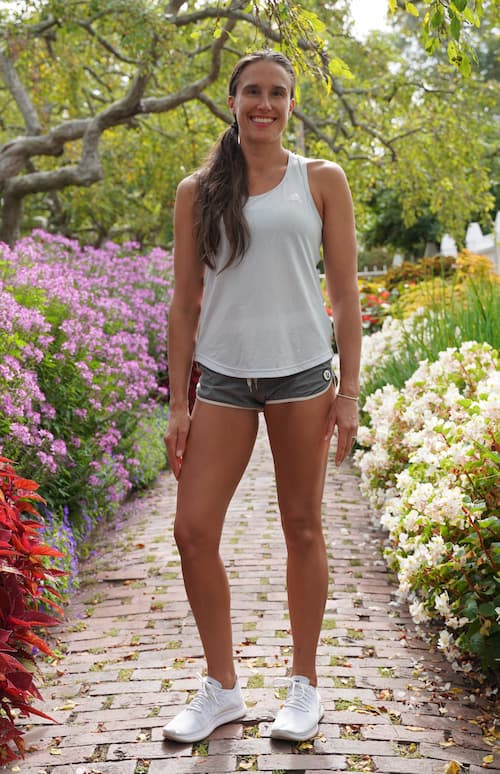 Gina Paulhus loves helping busy people find the most efficient way to exercise so that they can spend their time on what matters most.
My name is Gina Paulhus, I am a Certified Personal Trainer and owner of Home Bodies, and I am happy to say that my health and fitness are in a LOT better place these days. 
In addition to getting my fitness routine to a healthy place, I also overcame healing two large hernias as well as a diastasis recti...all without surgery. Sound too good to be true? You can hear about my personal story of how I healed from my hernias here. Learn more about my healing hernias naturally Corrective Exercise services here.
It's the service you need if you want to avoid surgery, or make a necesssary surgery easier to heal from. I know how it feels to be afraid for my life and want to avoid surgery at all costs, and I can help.
We can always meet over a Free 15 Minute Discovery Call to ensure your situation is a good fit for my program - I would hate to waste your time and delay your progress if my program isn't the right fit. 
The bottom line is that I was able to turn these various situations around by getting educated on what it really takes to heal my body and achieve healthful fitness. I'd love to be the one in your corner to support you on your journey changing your own life!
Everyone who meets me says the same thing - that my passion and commitment is what sets me apart. I will provide that same attentive care and service to you in a way that will blow away your expectations. Read more About Me.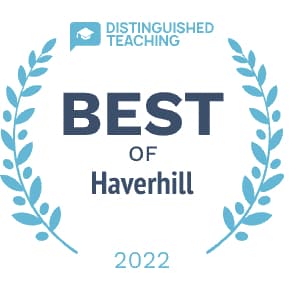 Have you heard? In Home Personal Training is the wave of the future.
Why would you want to commute to a stinky gym when you can work out in the comfort of your own home? At Home Bodies in-home fitness training, owned and operated by Certified Personal Trainer, Nutritionist, Pregnancy and Postpartum Corrective Exercise Specialist and author Gina Paulhus, we have specialized in home training since day one, which was all the way back in 2004! Gina is also a televsion show host and two-time author.
Feedback from a Happy Home Bodies Client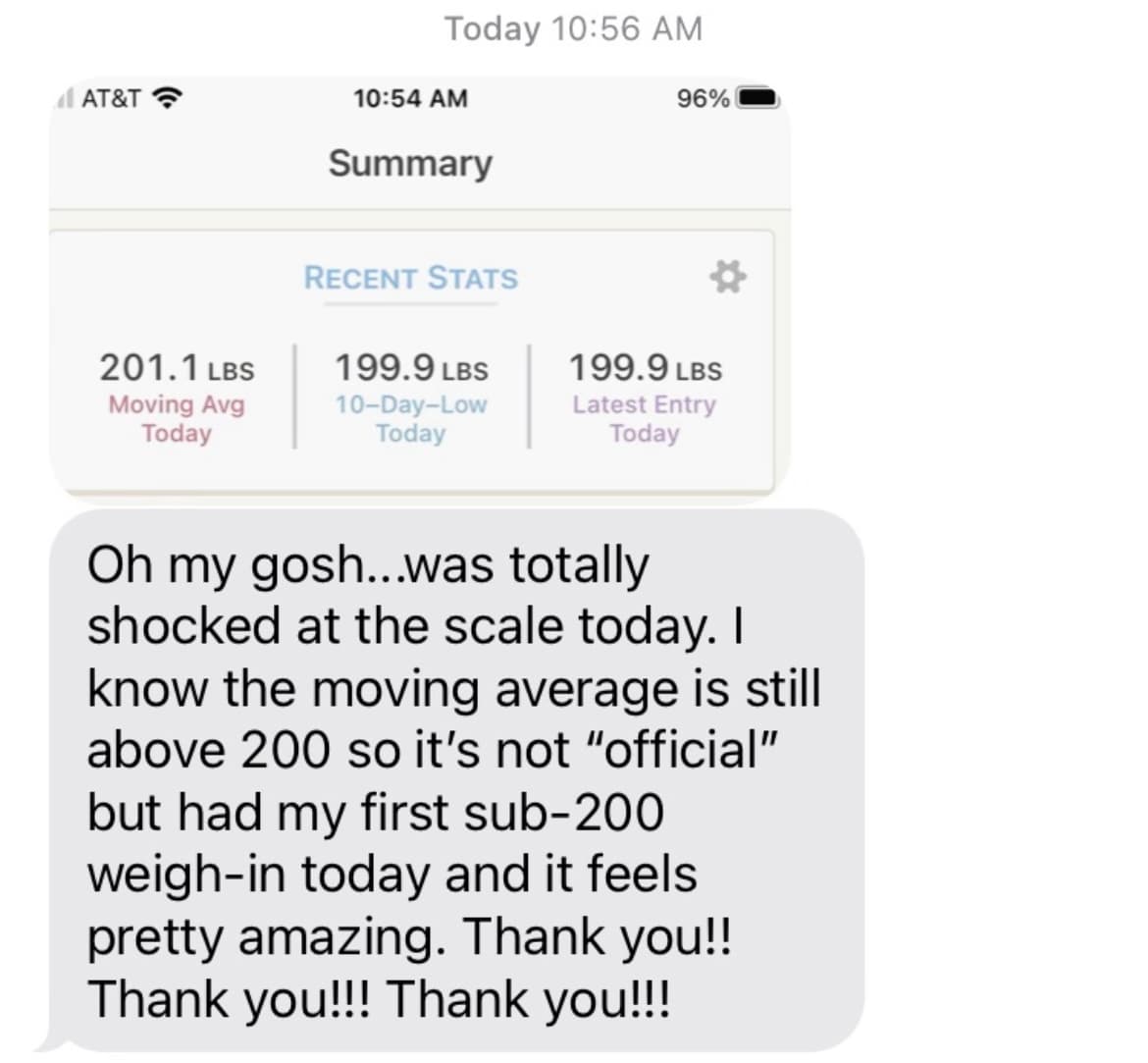 Home Bodies Offers a Wide Variety of Trainers with a Huge Mix of Specialties. We Offer:
Strength Coaching
Workouts for Beginners
Workouts for Teens
Functional Exercise Trainers
Small Group Instructors
To see our full list of Specialties, click here. You can pay your Home Bodies invoice with a credit card, a bank account, or a HSA (Health Savings Account).
Here is an example of what it's like to learn an exercise from Gina!
Here is Another Client Who Relied on Home Bodies During a Trying Time with her Health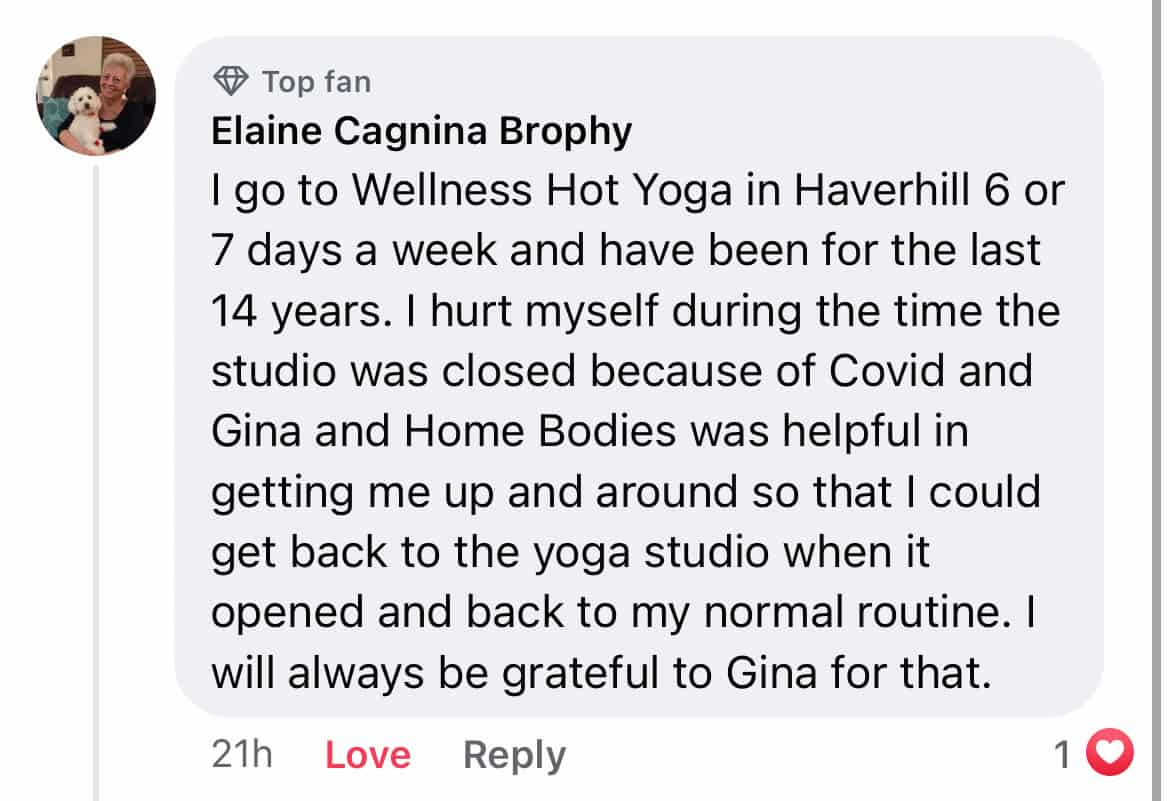 All of our programming we assign is supported with a video of each exercise. Online courses and programs normally provide video instruction you can follow along with, while live in person or remote sessions do not. We offer you the best of both worlds! A live trainer PLUS a video to reference anytime! This means you will get faster results by doing everything correctly and keeping your body safe!
We also include check-ins from the trainer with all of our services to ensure you're staying on track. You are free to opt-in or opt-out of that service.
With Home Bodies, you don't need to meet with a trainer 2-3 times per week to make progress. Most of our clients see us once a week or less often, yet still achieve weight loss, pain management and improved health while spending less money and having more freedom to workout whenever and whereever they wish!
We can work with you to create a workout plan that you actually have time for. We make sure we assign the most important exercises so that you make the best use of the time you do have to work out. 
You won't get bored because we can continuously change up your routines to keep things spicy. And if a Corrective Exercise program isn't working as expected - we are with you every step of the way to modify it to get the results you seek.
Let's get you back to feeling fit, confident and sexy. It's possible with a smartly designed home workout or Corrective Exercise routine.
What to Do if You're Not Sure This is For You Just Yet
You can schedule a Free 15-Minute Video or Phone Consultation if you'd like to talk to us about your fitness needs and see if we are a good match. These meetings are our gift to you - there is never any pressure to sign up during the call. Schedule now. Go ahead and figure out the most important part of your research - get an expert's input, all for Free!
I will be honest if my program isn't the right fit for you. I typically have a waiting list for new clients, so there is no way I would suggest that you sign up if I didn't believe I was the absolute best person to help you. 
You could even start to save money after becoming a Home Bodies client. Most of my clients tell me they can back away from frequent massage therapy, physical therapy, and chiropractic appointments because what I give them has them feeling so very good. I hope you're next!
Why Work Out at Home?
Home workouts allow you to save precious time commuting to and from the gym, enabling you to spend more time on what you really want and need to do in your life!
By following our expert-designed fitness programs, you will be able to cut down on the length of your workout  - without sacrificing results.

Did you know that most people get 80% of the benefit from only 20% of their workout? At Home Bodies, we know which moves are truly necessary for you to do for the results you seek.
When you hire a trainer, you will never waste time doing something unneccessary during your workout again!
If you hire us for Corrective Exercise, we can get you feeling better than ever with simple plans that can be done right at home. You may even save lots of money on things like chiropractic, massage, acupuncture and other treatments that may no longer be necessary. See Our Programs.
Working With a Trainer Comes with Unexpected Surprises and Perks
You'll love the benefits from working with our uber-experienced, holistic trainers who can teach you all of our best tips and tricks.
These tips include the little things you can do outside of your workout time to help you reach your goals even faster! We know all the fitness hacks! Gina Paulhus and her team of trainers are ready and eager to give you the winning edge.
If you are the type who thrives off of group energy, home workouts might not be the best match. However, if you love jamming out to your own tunes and working out in peace, hello home workout!
Who We Are
We are a wellness-focused company and are able to work around any injury, illness or limitation you may have. We pride ourselves on offering plenty of support to you along the way - all included in our at home personal training rates! 

We are truly home exercise coaches - not just trainers (check out our URL!) We check in with you in between sessions and have video of all the exercises we teach you right on our YouTube Channel. We also offer unlimited text, email and phone call support in between sessions. We want to help facilitate your learning and progress in every way possible - all for no extra cost! To offer this conceirge level of support of course costs us time, but we never overbook our days to ensure that we leave enough time to service our existing clients to their satisfaction.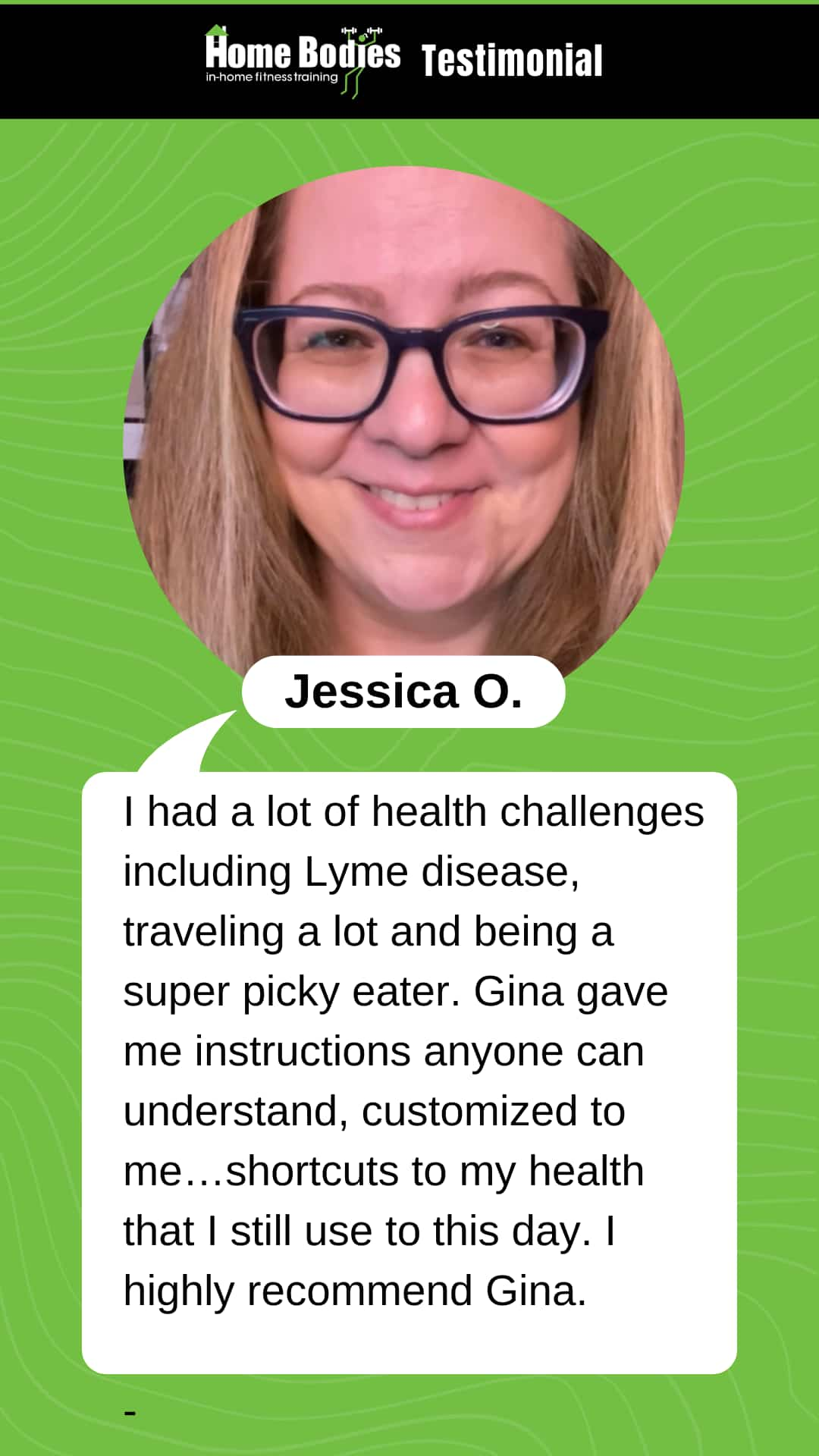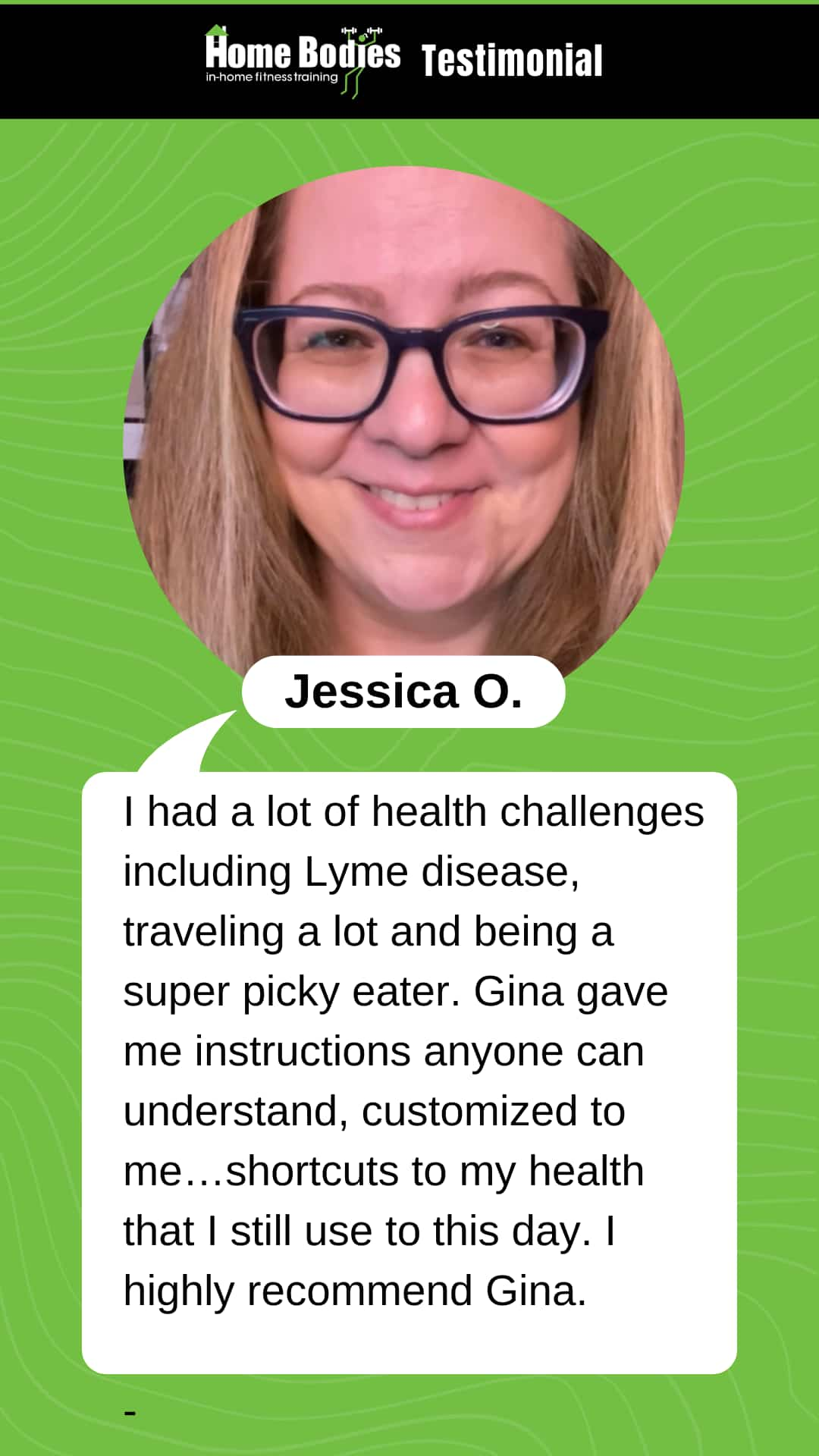 It's not about working harder - it's about working smarter! Hear about the formula I personally use and recommend for taking diet and workout breaks in this podcast!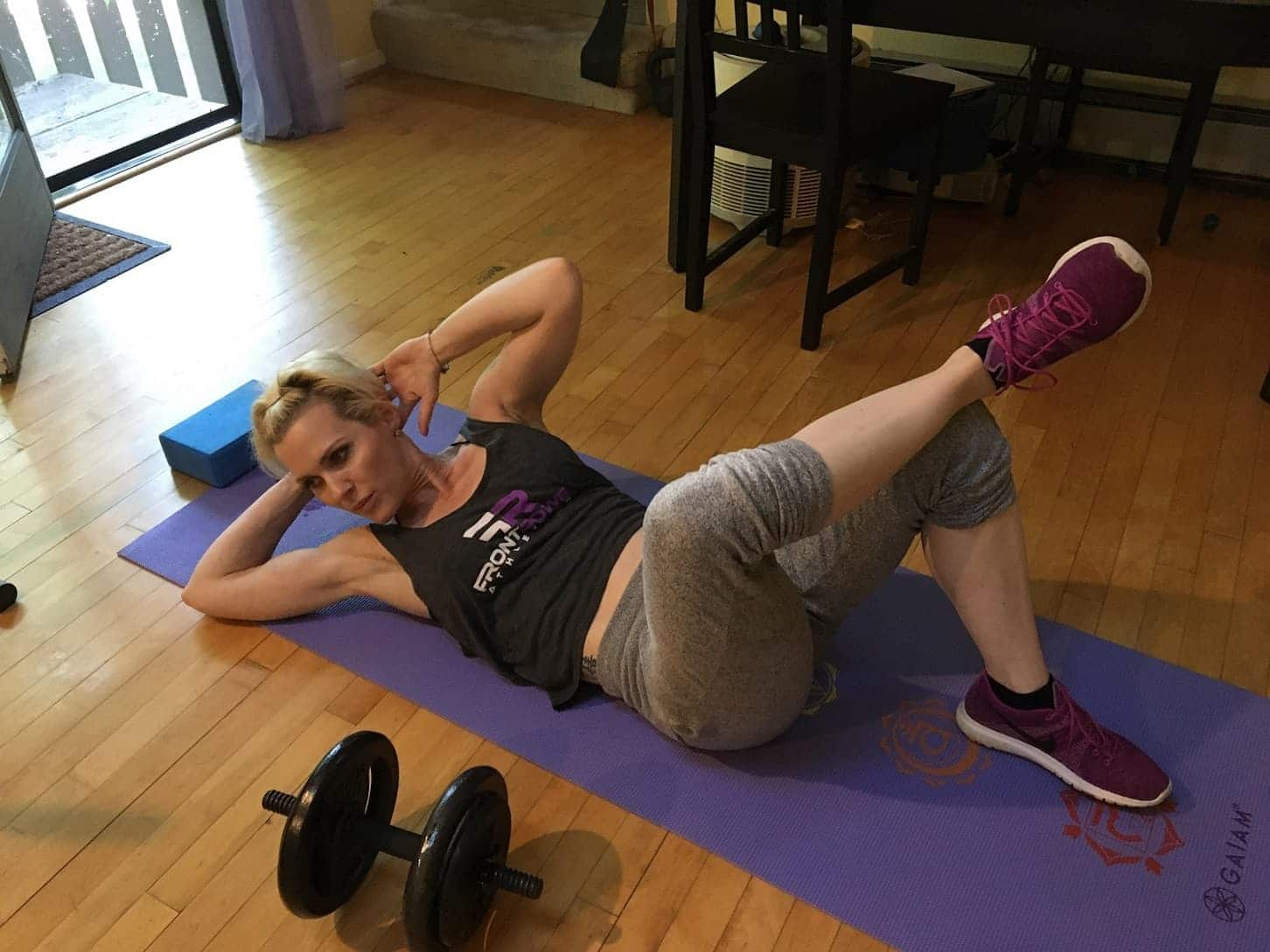 Danielle Rocco is working on her core strength to help improve the neck pain that she developed after a car accident.
Get Your Price Quote for In-Home or Video Call Personal Training Sessions Today.
Imagine Rolling Out of Bed and Having an In-Person Trainer or Video Call Queued Up to Get Your Day Started?
It couldn't be easier to gain the expertise of a fitness professional who is on your side.
No gym memberships, no commute, no packing your shower bag and change of clothes!
Once you try it, you'll never go back. I canceled my gym membership for good years ago, and don't miss it one bit.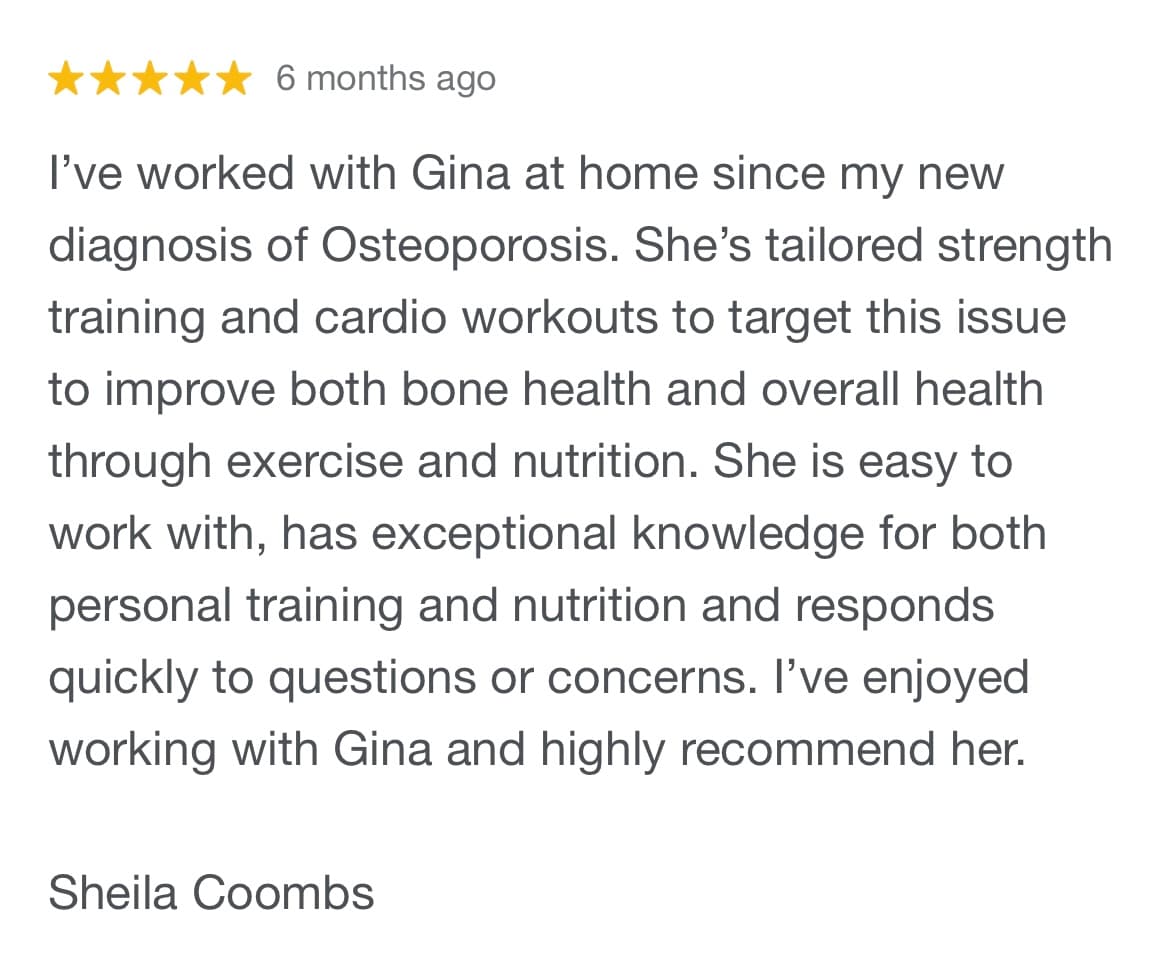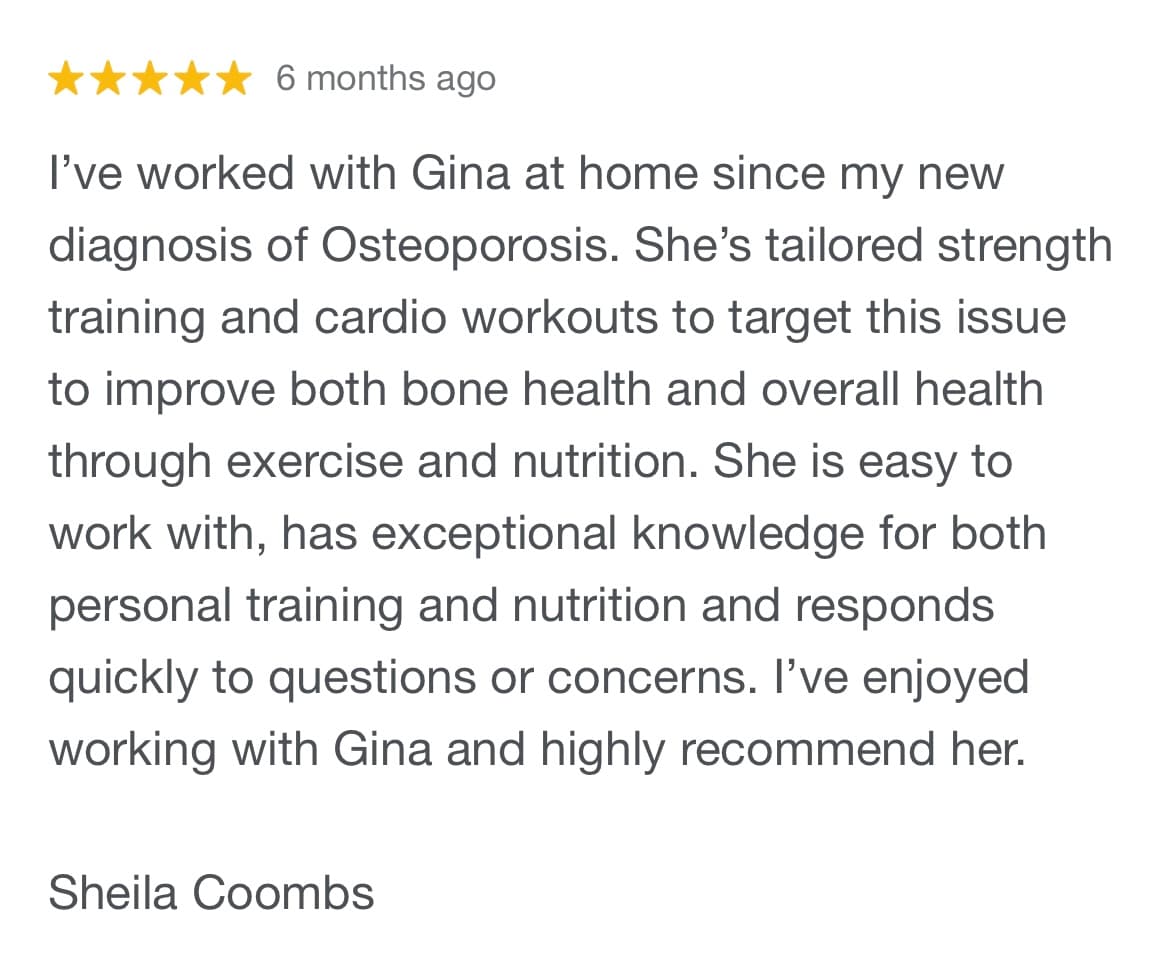 Our Company Has Been Here for Awhile, and We Are Here to Stay
We have been serving in-home clients with workout programs all throughout New England since 2004. Yup - that's 19 years! Back in 2017 we began offering video calls worldwide for those looking for program design, exercise guidance and that extra boost of accountability. Currently, our client base is about 85% virtual, 15% in person. We are very comfortable and capable to perform our work remotely. Check out some of our Client Success Stories here.

It will be so nice to feel in control once again of how you look and feel once you begin working with a Home Bodies Trainer! Never again will you look in the mirror to realize you need to start yet another "Whole 30" or cleanse type plan. In fact, our plans are easier - and they work even better :)