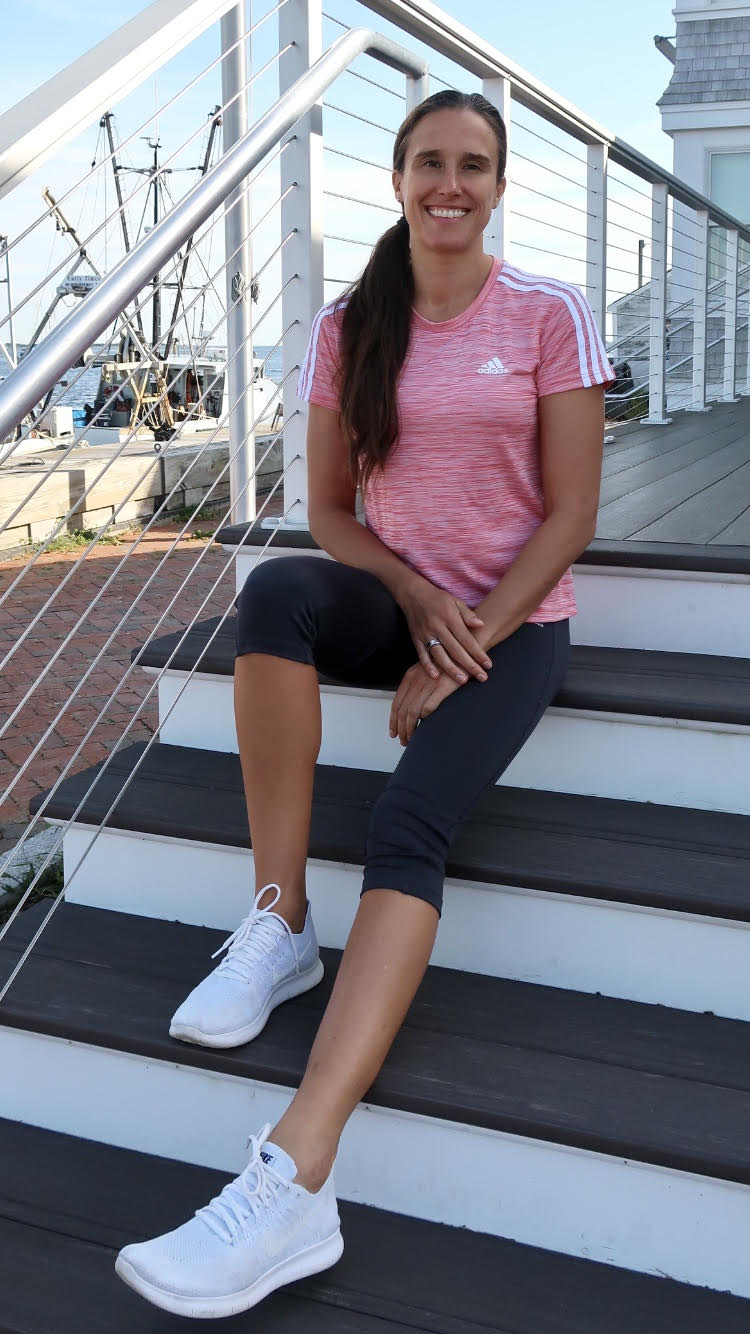 See press on Gina Paulhus, including TV appearances, podcasts, newspaper articles and online articles.
Radio Appearance with a TikTok segment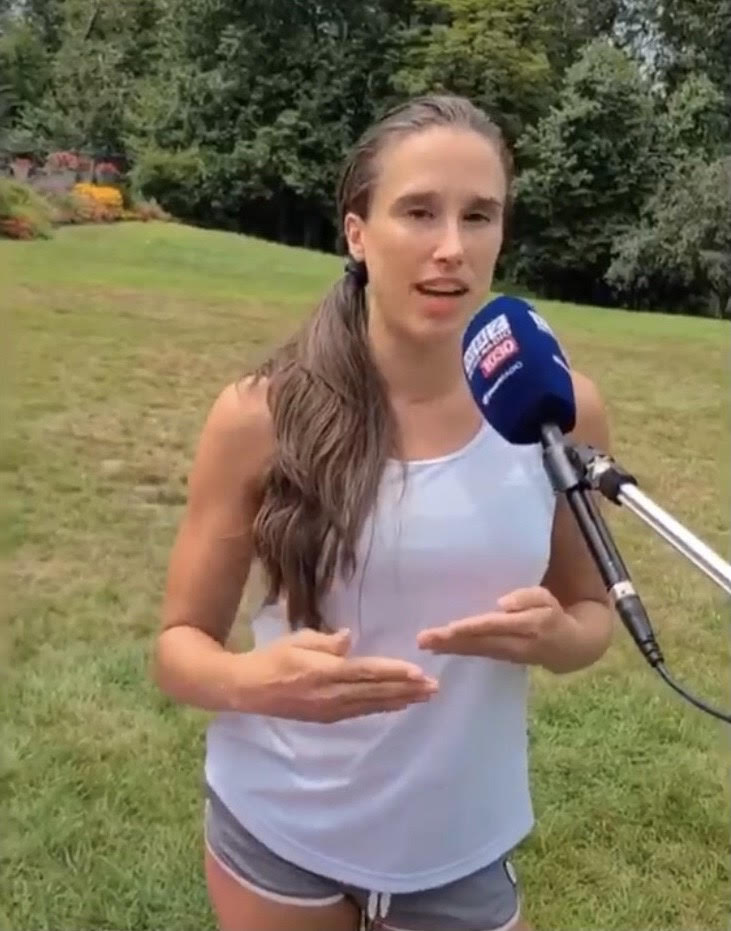 Check out Gina Paulhus teaching Matt Shearer of WBZ Boston NewsRadio his very first adult gymnastics class! Watch/listen here.
Guest Blog Posts
How to Correct Diastasis Recti and Turn It Into a Bulletproof Core In this guest blog post I was able to share some free at-home exercises that can be used to help diastasis recti heal as well as to share how to use KT tape to support a DR. 
How to Help Your Body Heal a Hernia Naturally Without Surgery Gina Paulhus is a Pregnancy and Postpartum Corrective Exercise Specialist, and she has healed her own hernias as well as a large diastasis recti. Learn how she did it in this article!
Newspaper Articles
Home Bodies Helps Women Bridge Gap Between Healing and Fitness with Online Program Fit Foundations
New Berlin-based Olympian Chellsie Memmel's comeback inspires many adults to return to gymnastics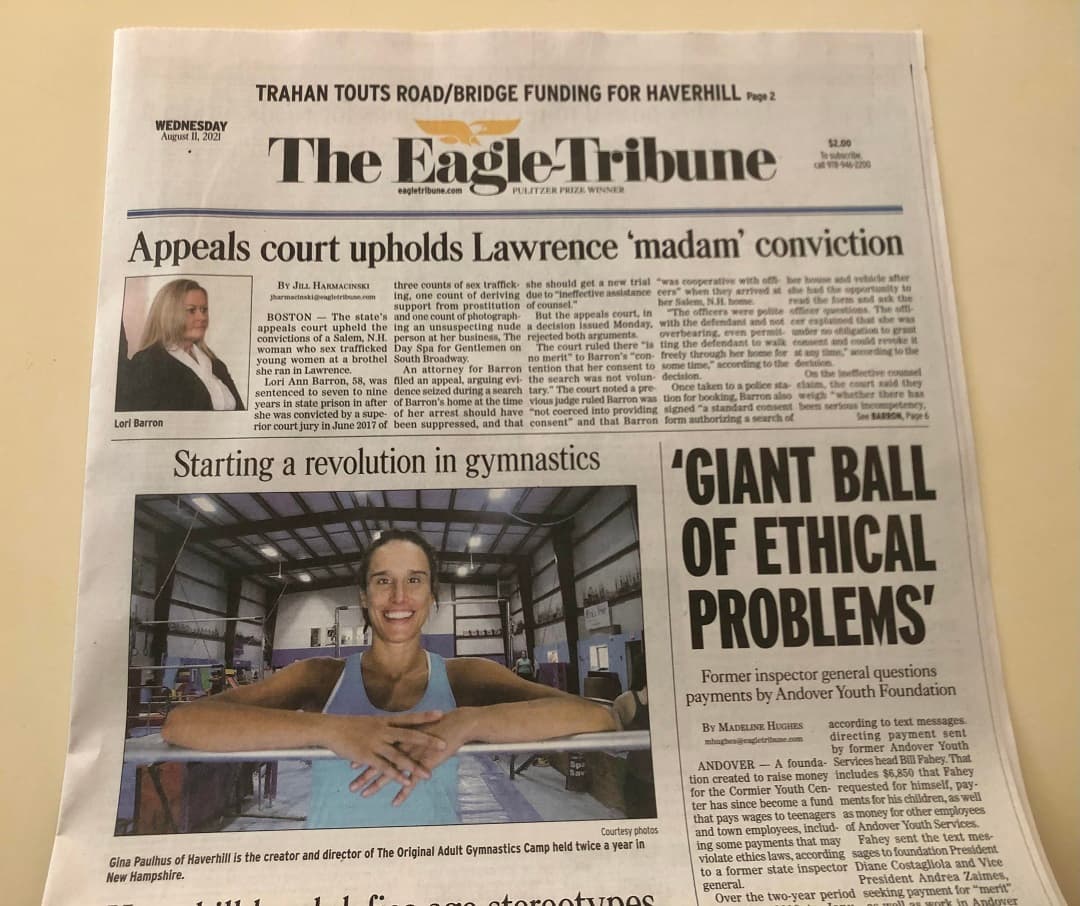 Starting a Revolution in Gymnastics - Eagle Tribune.
This article also appeared in the
Haverhill Gazette.
Haverhill's Own National Champ - Eagle Tribune
Foreign Gymnasts Flock to Local Woman's Camp
Gymnastics Experience for Adults a Bonding Experience - Portsmouth Herald.
Gymnast Defies Death...Twice Gina Paulhus overcomes medical adversity to thrive in sport, business.
Local Woman Takes National Title "This was my first national title," Gina said. "I was happy to just be at nationals, and to win the gold was a dream come true."
Haverhill's Own National Champion "I've been training all year for this event, and to have my best performance to date was a tremendous cap to a stellar season," Paulhus said.
Newest Podcast Episodes
Who says you are too old to do gymnastics?? Not Gina Paulhus, trainer, coach, author and owner of Home Bodies In-Home Fitness Training. She is a coach who works with adult gymnasts and regular people all over the world. And, the times they are a changing! With adult gymnasts becoming more and more the norm, Paulhus has been a trendsetter in the arena. Listen here.
Did you know that taking a break from a diet or workout plan actually helps you get BETTER  results? Learn how in this podcast. I mention some tools from my toolbox of how I recovered from disordered eating as well.We also touch on why considering the whole person matters so very much when it comes to someone's health and fitness prescription in this podcast.
TV Appearances
Listen to an Interview about Change Your Weighs with Frank Novak on Point of Reference.
The Home Bodies Fitness Show
Tips for Staying Healthy during Quarantine
Q and A with Home Bodies
Additional Podcasts
The Past, Present and Future of Adult Gymnastics with Gina Paulhus
Gripcast: Adult Gymnastics
Podcast - What the heck goes on at adult gymnastics camp?
Content starts at minute 31:15
The Honest Uproar Podcast
Online Articles
Interested in starting your own entrepreneurial journey in health and fitness but unsure what to expect? Then read up on our interview with Gina Paulhus, Owner of Home Bodies, located in Haverhill, MA, USA.
Adult Gymnastics Camp Winter 2016
Adult Gymnastics Camp Winter 2017
How Do Gymnasts Train for Success?
Adult Gymnastics Has Enormous Benefits
The benefits of gymnastics
Featured Client: Mrs. NH Competitor
Adult Gymnastics Camp 2020 Featuring an Olympian, Wendy Bruce!
Books
Hope For Autoimmune Disease: 15 Personal Stories of Living Better With Bikram Yoga
Gina Paulhus is one of the featured stories!
Short Films
Community Voices by Facebook
This short film is about Gina's Facebook Group
Just Like Fine Wine...Adult Gymnastics.
The group is now at over 6,000 members.
Social Media Mentions
Chellsie Memmel, Olympian, wearing shirts from one of Gina's sites adultgymnasticsswag.com