Curious what it costs to hire
an in-home Personal Trainer?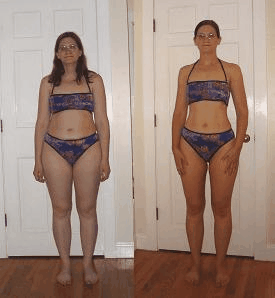 "In just 11 weeks--using NO weight loss pills or supplements, NO crash dieting, and NO extreme exercise, just following Gina's program--
I lost 7.5% bodyfat, 5 inches off my hips, 4 inches off my waist, 2 inches off my chest, 3 1/2 inches off each thigh, and 1/2 inch off each arm!"
*Results can vary
Anna Mullen was the winner of the first ever Body Challenge hosted by Home Bodies! She is from Byfield, MA.
Click here for more
more photos of Anna Mullen
Rates vary based on what type of workout you need, how much experience your trainer has and how much travel time is required of your trainer. While most hire in-home trainers to coach them one-on-one, you may share the appointment with one or more people at reduced rates per person.

Because the trainer/client relationship can be so personal, it's super important that the match is a good fit. We are a results-based company, and seek those clients of a similar mindset.
Fill out the form below if you would like a Price Quote. We promise to never pester you or share your information with other companies, but we will send you lots of info. to help you decide if this program is the right match for your needs.

**Click here to read about all the people who have changed their lives with Home Bodies!**