Subscribe to Gina Paulhus's popular Newsletter, filled with great health and fitness tips, discounts for products and services, and more!
You'll also receive a valuable
FREE gift just for subscribing!
Gina Paulhus's Get Fit, Lose Fat and Feel Fantastic Newsletter is now available in a short but information-packed free e-zine for anyone who is looking to lose weight, tone up, and get and stay fit, healthy, and youthful.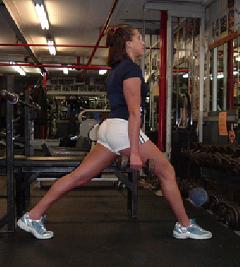 Gina Paulhus's articles will help keep your motivation to stay healthy and fit revved up on a regular basis! If you receive it every so often, you won't let yourself 'forget' about working out and eating healthy for months on end.

Here is a sample of recent headlines:
*Exercise Smarter, Not Harder for Best Fat-Burning Results*

*Low-Carb Dieting: Is It Right for You?*

*Why Rest is Crucial to Achieving the Body You Want*

*Is Sugar-Free All It's Cracked Up To Be?*

*How Much Time is Required to Experience the Benefits of Exercise?*

*Flexible Dieters Lose More Weight and Keep it Off*

*Perfectionism is Keeping You Fat


Each newsletter also includes a half-hour fitness workout show that you can follow along right at home with little to no equipment!


And, I will send each subscriber the first three chapters of my book, "Mind Over Fatter" as a PDF file as a Thank you for subscribing. These chapters will provide the motivation you need to change your body and your life.

To sign up for Gina Paulhus's e-zine 'Get Fit, Lose Fat, and Feel Fantastic' free of charge, simply fill out this form. If you don't thoroughly enjoy the e-zine every month, you can unsubscribe at any time with just the click of a mouse. Please fill out the form below to subscribe: