Personally, I have kept myself in great shape for years now. In 2003 I was recognized as one of the top performers in a Fitness Challenge hosted by Bally Total Fitness. This fitness test was amongst all the personal trainers, who generally are among the fittest people you'll find. I train myself very hard. For most beginning clients, I prescribe functional training, because it is important to learn how to perform basic body movements with correct form and control. For more advanced clients, I prescribe classic strength training and cardio. For myself, I perform advanced strength training and sixty minutes of cardio five days per week. Overall I spend about 10 hours per week working out to maintain my high fitness level. People ask me how I have the time. Well, I work 40 hours a week, and I have three kids and a husband. I have a lot of responsibility in my life, but I believe there is something wrong if you can't take an hour or two out of the day to do something good for yourself. I manage to get it in by designating a certain time frame to exercise and just doing it. If you're going to the gym, utilize the day care if necessary. If you'll be at home for your workout, let your family know that you aren't available during that time. If you can, find a way to make your workout more enjoyable. Get a workout buddy, hire a trainer for some of your sessions, watch your favorite TV program while you work out, read on the cardio machines, or listen to some good audio programs or music. You give up things. I haven't sat in front of the TV more than once a week for as long as I can remember. I don't always get to do all the social things. But it's worth it to me because I feel good. Commit to setting aside the time for exercise and you'll learn to love it for the results and because it makes you feel good. During the pandemic I took long walks around Lowell MA to stay sane. Taking time for fitness is always helpful."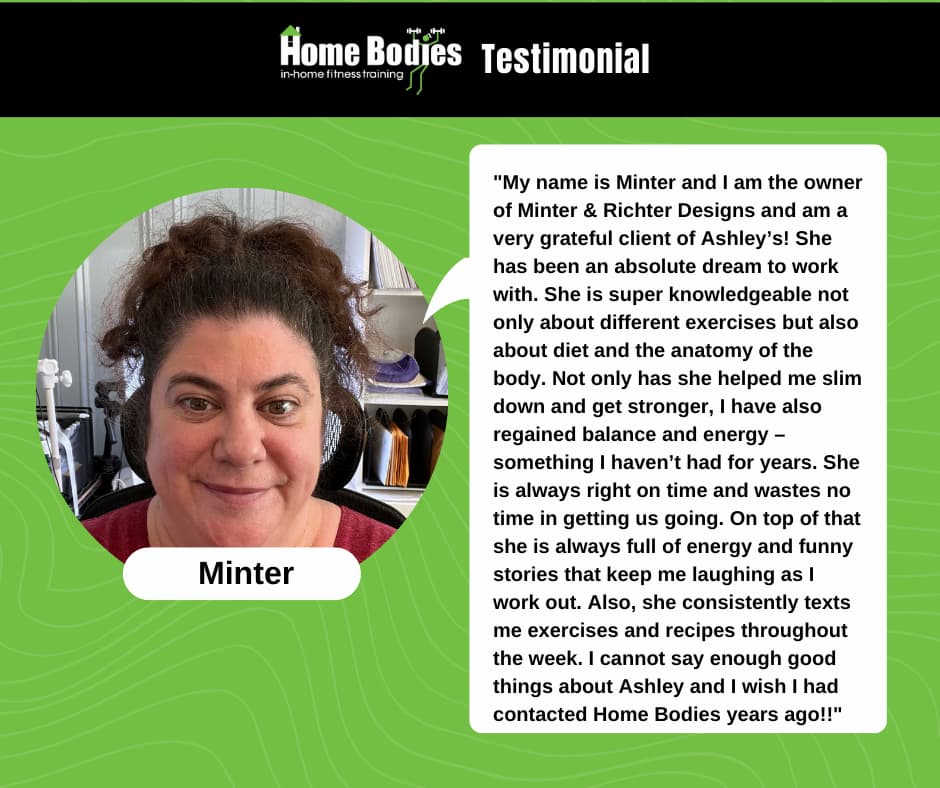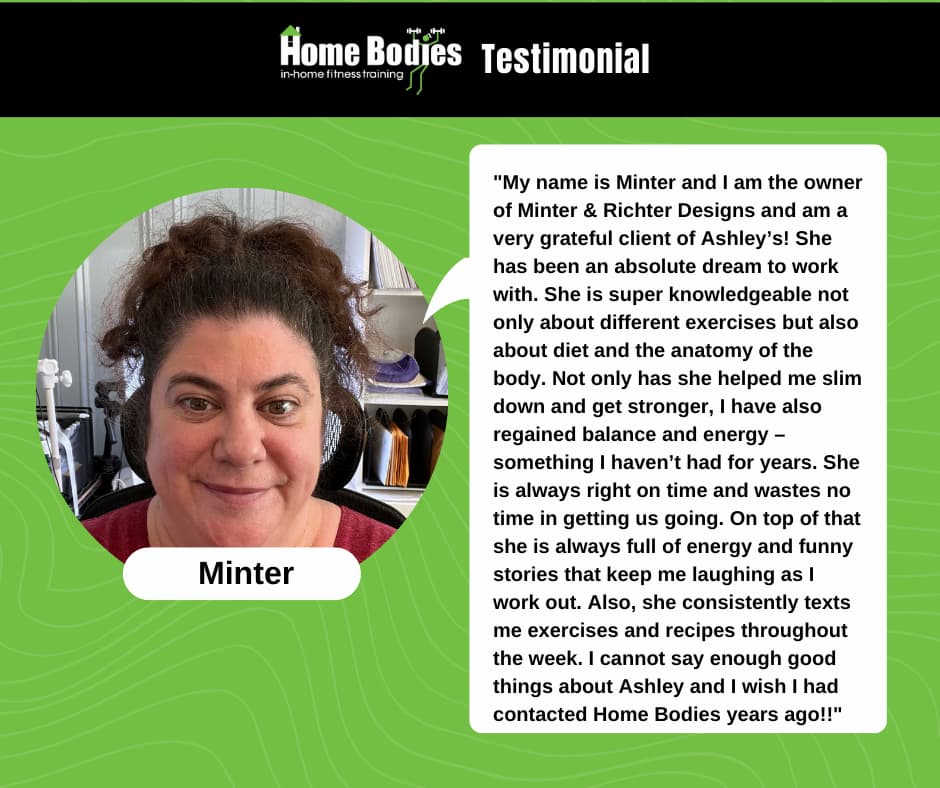 Ashley Works With Clients in the Following Communities in Massachusetts:
Weston, Dover, Lowell, Carlisle, Sherborn, Sudbury, Wellesley, Winchester, Manchester-by the Sea, Lexington, Wayland, Concord, Brookline, Newton, Needham, Westwood, Southborough, Boston.
She also covers areas up to 1 hour away from Lowell, MA including some NH locations.
Ashley's Certifications and Qualifications
ACE Certified Personal Trainer
NASM's OPTimal Living: Plant Based Diets Specialist
Madd Dog Athletics Spinning Certification
Spin Instructor for Virtual Rides
Here is what Ashley's clients have to say about training with her...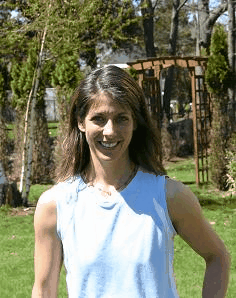 "I can't say enough about how instrumental Home Bodies, Gina Paulhus and her team of trainers have been in both achieving my fitness goals and more importantly, helping me develop a health and fitness lifestyle. Being given the tools and inspiration to incorporate a health-conscious mindset has been invaluable.

I contacted Gina 2 ½ years ago on the highest recommendation of a friend. After meeting with her and discussing my goals, I knew right away that I had taken the right step and found the right person. Gina is extremely knowledgeable and quickly assesses her client's specific abilities and needs. She put together a comprehensive program tailored to my desired goals which included diet advice, weight training and an ever-evolving cardio program. Her program has always been easy to follow and realistic in terms of time commitment and function of workouts. She keeps things fresh by adding new and different exercises, often increasing the challenge of a routine to avoid the pitfalls of boredom and complacency. She really knows how to keep things interesting and fun!

Her Body Challenge Contest which includes a 5k race inspired me to become a better and faster runner. She recommended specific training techniques to help improve my speed and performance. Since then I've enjoyed racing competitively in some local 5k races and finishing with a time I would only have dreamed of in the past! I always enjoyed running but the spirit of competition has added a level of enjoyment that wasn't there before.

When Gina found herself unexpectedly unavailable to see clients I had the pleasant experience of meeting with Ashley Arpe, another Home Bodies trainer. It's obvious that Ashley shares Gina's wealth of knowledge and enthusiasm for fitness. Ashley listened to what I wanted to focus on and came prepared with an appropriate and challenging workout. She had her own approach which proved to be just as effective and motivating as Gina's. Now I feel like I'm even more armed with great advice and options to keep me going on this path to fitness.

In addition to the personalized service Gina offers, her newsletter and website are chock full of no-nonsense advice and vital health information. These are just two more examples of Gina's commitment to share her knowledge and lead others to overall health. To anyone who might be considering using Home Bodies, I can say with complete confidence that you will not be disappointed! My sincerest thanks to Gina and her staff!"

Darlene Mack, Lynnfield MA
Accountant with CM&B Construction Company.


"Ashley is an amazing trainer and I'm happy to say she has become a good friend.

Her warm but forthright style is just what I needed when I decided to finally get in shape after having three children. I worked with Ashley for over two years in my home and she always showed up on my doorstep on time (many times early!) with a smile and usually a funny story to tell as we worked through the weight routines.

Changing up the workouts is one of Ashley's specialties. I'm not sure we ever did the same routine twice, and sometimes we took it outside to the driveway to run drills if the weather was nice. It's reassuring that her training style is so adaptable to both the weather and mood swings! She has an excellent command of physiology, which is important to begin with, but it certainly helped when I had an injury (lower back pain.) Ashley was able to tailor the workout so that I could still work the important muscle groups while avoiding the sensitive area.

Ashley has easily earned the title Master Trainer. Anyone lucky enough to have Ashley in their corner - cheering them on while working them hard- will get in great shape and have a great time doing it."

Meg DeBoer, North Shore 
"We worked together to establish fitness goals and Ashley knew how to design exercises that were appropriate to meet the goal.  
She was good at varying what we did, alleviating the boredom factor."
Ellen Krechmer

"Ashley Arpe trained me for a couple of years at my home in Dover for an hour each week. She was a pleasure to work with as she was always punctual and ready to push me to do more with my body even when motivation to move was sometimes low. That's because she brought her own motivation and brought some to spare. If I were uncomfortable doing an exercise, she would try to ascertain what I needed to do the exercise. Sometimes I just needed a push, other times, I needed a modification. This comes easily for her as she has an arsenal of different things you can do with your own bodyweight and resistance. She worked with what equipment I had and my surroundings to fill my hour with varied and challenging work. If you're looking for a knowledgeable and motivated trainer, book a few sessions with her. You won't be disappointed.

Malena
"Ashley is the gift I gave myself for my 50th birthday--and now at 55, I can't thank her enough for all she's done for me--and now also for my husband, my father-in-law, and also my neighbors! She is really the gift that keeps on giving. She is incredibly knowledgable about how to work you out without hurting any pre-existing conditions or creating new problems, and she has kept us fit despite ourselves! Along the way she throws in her extensive expertise in nutrition, but never in an intrusive way. She is thoughtful and considerate and never makes us feel bad about the way we look or our level of fitness. She comes to our home and has always been punctual, polite, and trustworthy. 5 years and counting--can't say enough good things! So much better than the gym!"
Caroline R.
"Ashley Arpe and I trained for about a year and four months. In that time I lost about 22 lbs when my original goal was 15 lbs. Before her, I had no idea what it meant to have healthy fitness goals. I was eating bad and most certainly not working out the correct way.

Before her my workouts consisted of going on the elliptical for a 30 minute session. She taught me how to use free weights to benefit my body type, she taught me different kinds of cardio methods rather than just the elliptical, she taught me what foods I should be eating, and most importantly what I should not be eating. With these lessons, and over time, she helped me reach my fitness goal.

Ashley is someone who cares about what she is doing. When you can find someone that cares about what they are doing it makes all the difference. She lives by what she teaches. She isn't just standing there telling you what to do, she shows you what to do, and she tells you what it will help with on your body, and she practices it herself. She likes to see her clients prosper from her work.

Ashley is great at what she does and I would recommend her to anyone that came to me asking for a life coach and/or personal trainer. She strives to help her clients and she strives to make herself a better person and that is a rare quality in people these days. She will be continuing to help people reach their full health potential for a long time to come, that I am sure of. I wish her the best of luck in all her future endeavors."

Erika Bruzzese
"I have been working with Ashley for 6 months and she is a truly professional trainer. She is a genuine person that gets to know you on a personal level and fashions workouts based on your ailments and limitations with the goal of strengthening muscles around those areas to help you.
Ashley can adapt to virtually any location in your home and make it a bonafide workout area that you feel comfortable training in. She is caring but no nonsense at the same time and will challenge you.
She will always arrive on time and is flexible with scheduling when unexpected conflicts arise. If she can help a 40 something engineer like myself, she can help you."
Mr. Dad Bod
Merrimack NH
"I have been working out with Ashley Arpe of Home Bodies in my home for just over a year. Not only am I stronger, more flexible and have better balance—I've lost over 35 lbs! 
Thank you Ashley for developing a fitness program that works for my busy schedule!"
Mary Beth 
"My wife engaged Ashley Arpe as a personal fitness trainer for me to help me deal with recurring lower back problems from pursuing a hobby that's been hard on my body (stone carving).  We had 8 one-hour sessions over the course of the summer, and I am very pleased with both the process and the result.
Ashley tailored our sessions to my specific goals after understanding my abilities and limitations. She combined a variety of exercises and stretches to condition and strengthen my core, using both kinetic and isometric techniques as well as free weights, straps, exercise ball and bosu ball.  By combining stretching, conditioning, strengthening and balancing techniques, Ashley sought to improve my agility and overall fitness suitable for a variety activities.
After each session, Ashley wrote up a set of notes on what we did, segmented into "every day" and "every other day" groups, so I could work on the techniques through the week on my own.
Ashley is very friendly and engaging, with an easy-going, non-judgemental style that makes it easy to relax and enjoy the workouts while learning what works.  She is quite knowledgeable about physiology and how to work different muscle groups, and she draws from hundreds of exercises and stretches so each session is different and fun.  
After working with her for 8 weeks I feel much stronger in my core and more fit overall.  Plus I have learned about a hundred different exercises and techniques to follow going forward to help me stay fit to enjoy an active lifestyle of hiking, mountain biking, tennis, kayaking and, of course, stone carving.
I highly recommend Ashley as a personal fitness trainer."
Keith T.
Milford, NH
"I began training with Ashley in the Spring of 2019. Since then my balance has improved. I am in my 80's. I focus on the exercises I can do and take it week by week. Some weeks my dizziness is a problem due to ongoing medical reasons. So I do certain exercises with Ashley keep myself stable. I am able to do more exercises now. than before and my family notices a improvement. I look forwards to the sessions." 
Birghitta

Carlisle MA

Personal Trainer Lowell MA: Get Started
Go here for a Price Quote to work with Ashley.