Help is Available for Pelvic Floor Issues. I did gymnastics for 21 years - I get it! I've competed high level gymnastics as a child and as an adult.
By building a strong pelvic floor that is in balance, your ability to do even more skills will soar!
Hopefully by now you can see that our core works as a wonderfully impressive, complex and amazing system. In gymnastics, we are asking our entire body to do superhuman things that require superhuman strength! Let's be sure that these women and girls have a pelvic floor that is up to the high standard the rest of their muscles and body hold. Using an expert to help ensure pelvic floor health and strength is an investment worth making. A little bit of education can go a long way.
Because every body is different, individual consultations are necessary to ensure you have the best pelvic floor plan for yourself (or for your athlete or a loved one) to move forward. I offer one on one consultations with exercise plans and videos provided for your own continued education on your own time. With just one visit I can set you up on the path for greater success and comfort in your sport. Follow-ups are available on as as-needed basis.
Set Your Consultation with Gina Paulhus, CPT and Corrective Exercise Specialist Today.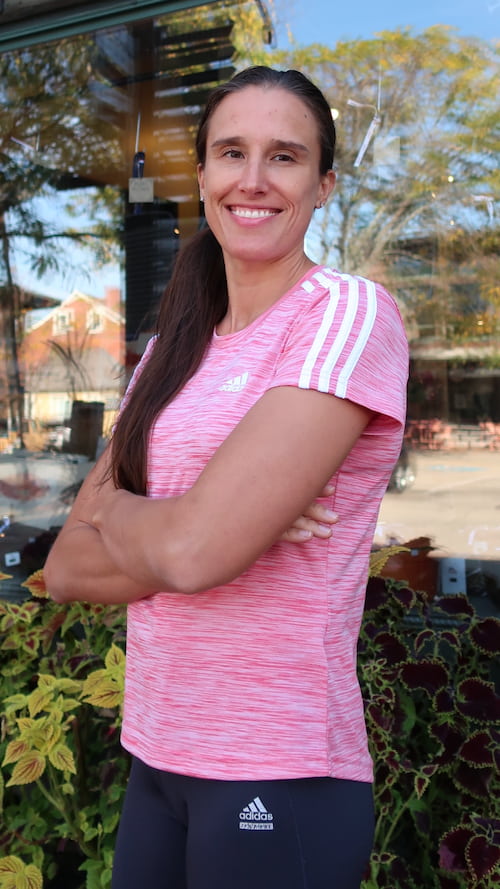 It warms my heart to see an athlete overcome an obstacle such as pelvic floor difficulties!
Appointments are available Monday through Friday, 8am through 8pm and are conducted via Zoom. Reserve yours now with your payment here. You will be able to schedule via email after payment is received.
If you prefer, you can contact us to book your appointment first and then receive an invoice after services are rendered. Let us know what days/times work best for you, as well as your time zone.
What Will I Get During My Session?
The sessions are one hour and are conducted over Zoom. If the client is a minor, an adult will need to be in attendance during the call. During the consultation we go over:
Your current symptoms or issues
The recommendation of which exercises you'll need to move forward
Expectations for results from the exercises as well as timeframe
Instruction on how to perform the exercises
A check in to see how things are going once the plan is in place
After your appointment, you will be sent a written plan via email that includes links to videos that you can follow as you perform your exercises on your own. Follow-up visits may be scheduled as needed.  At the beginning of the call, you may also request a recording of the call so that you can watch again to if you like. 

You can always start with a Free 15 Minute Discovery call if you are not ready to book an appointment. Schedule your free call now - to be conducted over audio call, Zoom or Facetime. During this quick call, you'll have a chance to ask questions and make sure the program is a good fit.
Finally, feel free to contact us if you have questions about this program!
1 Contraction of the pelvic floor muscles during abdominal maneuvers. R R Sapsford 1, P W Hodges. PMID: 11494188 Doi: 10.1053/apmr.2001.24297
2 Prevalence of stress incontinence in nullipanous elite trampolinists. May 2002. Scandinavian Journal of Medicine and Science in Sports 12(2):106-10. Doi: 10.1034/j1600-0838.2002.120207x. PubMed. K. Eliasson et al.
3 Relationship between transversus abdominis muscle thickness and urinary incontinence in females at 2 months postpartum. Sachiko Madokoro1, and Hiroichi Miaki. J Phys Ther Sci. 2019 Jan; 31(1): 108–111. Published online 2019 Jan 29. Doi: 10.1589/jpts.31.108
4 Morin M, Dumoulin C, Bourbonnais D, Gravel D, Lemieux M. Co-activation of the pelvic floor muscles during contraction of the hip external rotators; Poster presented at: Annual Meeting of the International Continence Society; August 25–27th; 2004; Paris, France.
5 The status of pelvic floor muscle training for women. Andrea Marques, et al. Can Urol Assoc J. 2010 Dec; 4(6): 419–424. Doi: 10.5489/cuaj.10026