These winter cardio indoor options will help ensure that your fitness stays hot even while the weather is cold. It's more important than ever to work out in the winter months - the months when we are least likely to feel like it. By working out in the winter, we can ensure that we stay in tip top shape come spring. We can also help mitigate potential winter pitfalls like SAD. Enjoy!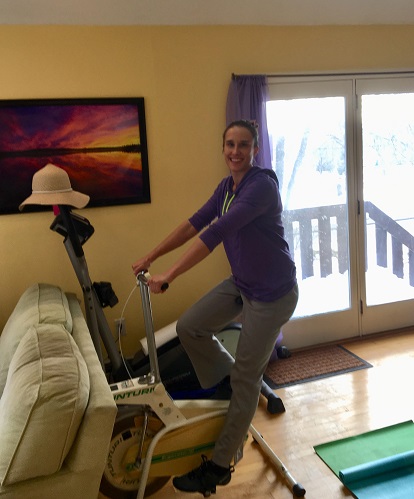 Our winter cardio indoor options will be sure to keep you sweating all winter long!
The Ultimate Combo HIIT
This plan blends cardio machines with core and plyometrics for a fast-paced workout that will keep you guessing. Feel free to swap the cardio modalities suggested, but maintain the intensity listed and only rest when needed for best results.

Minutes        Activity
0:00-4:00      Stationary bike moderate pace
4:00-5:00      High kneed
5:00-6:00      Knees-in planks
6:00-7:00      Speedskaters
7:00-8:00      Stabilty ball crunches
8:00-10:00    Treadmill Sprint as fast as possible
10:00-11:00  180 degree jumps
11:00-12:00   Side plank hip lift (switch sides half way thru)
12:00-13:00   Long jumps
13:00-14:00   V-ups
14:00-18:00   Stationary bike moderate pace