Quest Bars are a delicious, healthy high-protein snack

If you've been looking for a healthy, quick, portable and most importantly delicious high-protein snack while you're on the go, you're in luck!
Quest bars are a revolutionary snack bar that contain between 160 and 210 calories per bar with 20 grams of high-quality protein and a whopping 17 grams of fiber.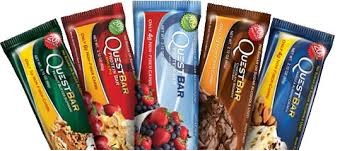 Unlike many bars that have a laundry list of ingredients, these bars only contain a handful of natural ingredients that won't hurt your healthy lifestyle.
My two favorites are the 'apple pie' and 'chocolate chip cookie dough' flavors, however they have a huge assortment of flavors and you might want to try the variety pack to sample them all.
I have a very sensitive stomach which makes me vary to eat bars, however these sit with me just fine. I can't recommend them enough! If you've tried quest bars and want to share your review, please fill out the comment box below!

Have a comment or question about this article?
Please share it here!