One of Marla's requirements for her in home personal training program was that she sees results—and she definitely has! She has lost 20 pounds in three months with Gina's program, bringing her in the range of her goal weight. She has lost 14.5 inches from her waist, hip, chest, and thigh measurements combined! Now Marla's biggest problem is having to buy a whole new wardrobe, because none of her old clothes fit! When she goes shopping for those new clothes, she is getting quite a bit of attention—"Those catcalls are priceless!" quips Marla.

For the future, Marla hopes to get and stay as healthy as she can be, to feel great, and to continue to develop her dream body, which includes increased muscle tone. She's already gained some size in her bicep measurement, which shows she's on the right track. She wouldn't mind landing on the cover of Glamour magazine in a swimsuit if all goes well! Hey, stranger things have happened!

On a more serious note, Marla comments, "Gina has taught me balance. I don't want to feel guilty about food—if I crave a cookie, I want to have a cookie!" I have tried various diets including the "Eat Right For Your [Blood] Type" diet. None of them worked—I needed the 'Gina Factor!'

In regards to her training program, Marla loves that Gina switches things up, which means she never gets bored with working out. "We always have a good time," says Marla. "Gina is personable and really knows what she is doing. I see results—BIG TIME results! I also like Gina as a person!"

Marla has got so much out of training with Gina that she has been recommending Gina to many people she loves, including family members, friends, and employees. Marla would like to give a "shout out" to…Carol (also of Waltham), Janet, Michelle, Judy, and John, a.k.a. "Chugga!" You all are special—keep it up, it pays off!" says Marla.

As the hotel owner, Marla has been working hard at renovating the Holiday Inn Select in Woburn and is in the process of adding a full-service Spa to its offerings. She enjoys spending time with her handsome husband Jim and her four children, Brandon (12), Cody (7), James (4) and Juliana (2). The Martorillis live in Waltham, MA, and spend as much time as they can at the beach in Plymouth. Marla loves to enjoy a great book on the beach with wonderful company. She enjoys spending time with her 'Gal Pals' who keep her laughing!

Waltham MA in home personal trainer: Get Started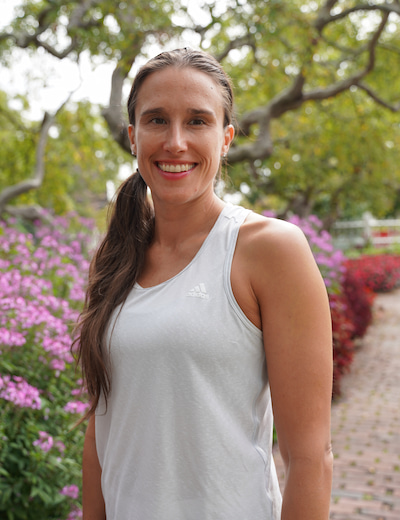 If you're in need of a Waltham MA in home personal trainer, we will help you get started! Get a Price Quote, or check out Our Programs. You can also schedule a Free 15 Minute Discover Call to chat with a trainer and see if this program is what you're looking for.