Susie says, "Gina is just the right mixture of toughness and sympathy, and she has chosen great routines for me. She's nice, too!" Susie has been one of my most consistent and hard-working clients these past months. She takes her workouts seriously in the sense that she expects herself to perform well and she hates to miss a workout. She also values how her increased fitness helps her out in her horse shows.
With Gina's guidance, she'll improvise with other exercise when traveling since she doesn't always have the same equipment available as she does at home. Susie definitely hopes exercise leads changes in her physical appearance, but she also believes in fitness for all the other benefits one gets from working out—which is a great attitude to have, because you can never lose when you see the big picture of health and that it's not ALL about the number on the scale.
Susie started training with Gina before she had a full schedule with clients, and now she's "bummed" that it's harder to fit into Gina's schedule now. Sorry, Susie—I really wish I could be in two places at once! I will always make time for my current clients, so don't worry! 
Secrets of Their Fitness Success: Susie's Tips
"A workout is like medicine. You don't know how good it will help heal your aches and pains (mental and physical) until you try it. The results are almost immediate. Exercise is the best anti-depressant I ever tried! See if you can commit to going to the gym for 1 week (3 sessions)— I can guarantee you'll keep coming back. Just start out slow—don't overdo it or you'll get hurt or burn out."

Rye NH in home personal training: Get Started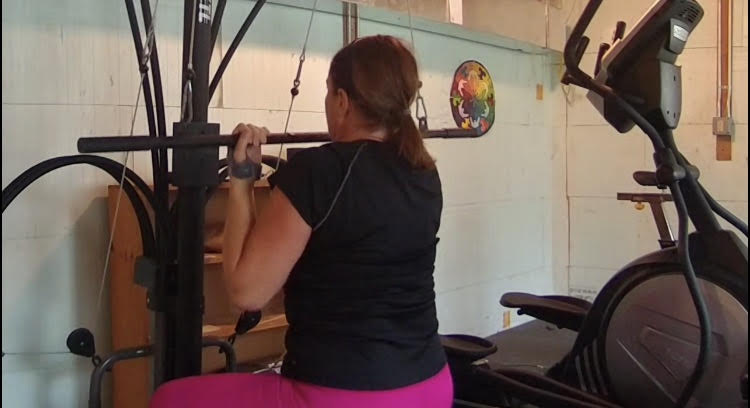 By working out at home, Susie can always manage to squeeze in a workout in spite of her busy schedule
If you're in need of a Rye NH in home personal trainer, simply get a Price Quote today or check out Our Programs.