If you are looking for at home personal training in Rowley MA, you're in luck! Home Bodies would love to help! Let hear more from Chris about her experience working with a Home Bodies trainer.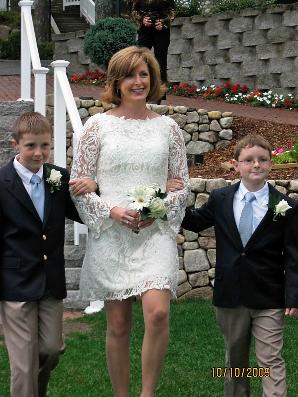 Chris loves how she looks and feels since starting to work with a Home Bodies trainer!
"I was never an athlete, to say the least. I had children in my 30's and the closest I got to 'working out' was talking 3-5 mile walks, usually with a child in stroller. As my children moved past the infant stage, I began to focus on some things I wanted to do for myself again. In May 2006, I did the Avon Walk for Breast Cancer, a two-day, 39-mile walk with a dear group of friends, one of whom was a breast cancer survivor. This was something we all had wanted to do for many years but could not make the time for given our busy work and family lives. All of us were out of shape and not sure what to expect or how to train.

So, I began walking longer distances and really liked how it made me feel. We did the walk, albeit with some blisters and bruises, but we made it. This inspired me to keep walking on a regular basis.

A little while later I heard that my sister was working at her home with a trainer. I started to see some great results in her. The gym setting just wasn't for me and I had never lifted weights but recognized the need to do so for my health and also to boost my metabolism and tone my body. I realized hiring a trainer was the only way for me to be committed because I was so busy.

So, I began working out at my sister's house with Beth Fahey. I was comfortable with Beth right away. She set realistic but stretch goals for me and pushed me in a way I would never push myself if left to my own devices. She has a way of mixing up the routine so that I never get bored.