Personal training in Georgetown, MA:
Meet Chuck Freedman, Home Bodies client of the month for May 2010
"It's impressive that Home Bodies can provide someone who can design two unique workout plans and coach and administer them in tandem."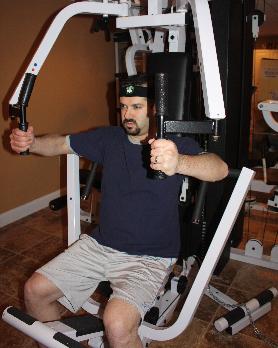 Chuck working out at his home in 2010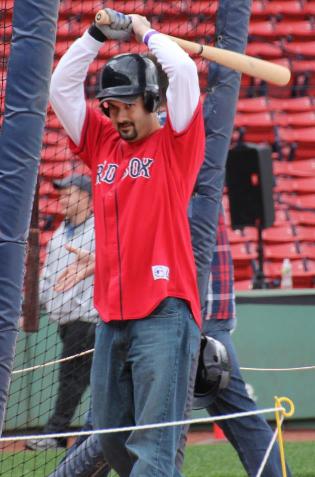 Chuck looking lean and mean in 2012!
"My wife Jamie and I first started working out a few years after college just to make sure we stayed active. Our first attempts to work with a trainer didn't go so well. The workout didn't seem customized to what worked for me. I did not feel like my personal goals and the goals the trainer had for me were the same. I felt like I was just getting injured and straining my body. My whole body was not addressed in a balanced way. A few years went by without using trainers.
Last year I really began to notice that I had lost some agility and speed and realized I was sitting a lot for work. Also, we just had our first child and I realized I needed to be able to keep up with him. My wife and I decided it was a good idea to train and had comfortable space downstairs. She set out to find gyms or fitness centers in the area. We figured we'd learn some things there and take it home to our home gym. However, we became aware that the Home Bodies service existed and the rest is history.
Working with a Home Bodies trainer was better and much more than what you expected. I thought I would learn some exercise routines and then we would work on our own. I thought having a trainer would be a temporary arrangement, but it has turned out to be ongoing, as we have been working with Gina for about a year. Having a trainer check in with me weekly and coach prevents me from hurting myself. I also learn different ways to challenge myself. I realized that once I learned an exercise routine there is still so much more that can be done as far as changing it up and advancing. My routines are all creative, constructive and personalized. It's much more interesting to work out having a trainer help you.
My goals have been to lose and maintain weight, feel fit, be able to move well, and be more flexible. I had tightened up over the years and noticed a lot of slouching and poor posture. I also wanted to gain energy. In a very short time and in a comfortable way I am well on my way to achieving these things. Since starting to work with a trainer I notice I am stronger, have more energy, have better agility, and can pick up my three year old with ease. I notice I don't get as sick as often. I am surprised at how easy it is to lift things and work in the yard, and I feel a spring in my step that had left me. I am very conscious in my diet now in a way that I know the cost of straying from my program. I know how hard it is to work off junk food, and it helps me make better choices. I realize how powerful a tool it is to write down what you eat. I like checking with Gina on what is good to eat and what isn't. I made simple changes that really make a difference.
I really appreciate the fact that Jamie and I work with our trainer together. I can share the experience with my wife and we are there to support each other. It's impressive that Home Bodies can provide someone who can design two unique workout plans and coach and administer them in tandem. Jamie is pregnant and Gina has devised a workout routine that is safe for her to perform.
If you aren't sure that you really need to hire a trainer, imagine this: Take a look at what you are doing now and imagine it being that much more fun and having the confidence that you are not hurting yourself, that you are going to reach goals faster and that you have someone else helping you design the ideal shape that the body can be.
I am occupied as a device platform evangelist. I promote the adoption of software for developers for the devices that my company, Litl, makes. In my free time I enjoy puzzles, baseball, basketball, golf, and playing with my son Chase."
Click here to return to Home Bodies Clients of the Month