If you're in search of in-home personal training in Boxford MA, search no more - Home Bodies can help!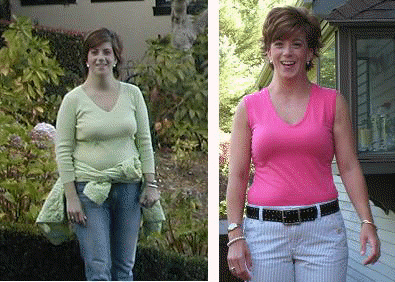 Heidi when she started with Gina...and now!
It's obvious that Heidi Nicholson feels better than she ever has in her entire life—and she is so happy to spread the word about healthy lifestyle to everyone! Let's hear from her now.


"I became interested in Home Bodies after a recommendation from a friend who had done well with the program. I've never had a trainer before—I've worked out in the past, but never any weight training. I wasn't sure what type of routine I wanted, although I knew the convenience of working out at home sounded great. My goals were to lose weight and feel better about myself in general.

I have always had it in the back of my mind that I wanted to be in shape and healthy, but not until Gina came around did I become completely serious. I know I had never reached my potential with fitness. My struggle when working out in the past was that I just wasn't very consistent or dedicated to it, and I didn't have any knowledge of weight training. Once Gina explained the benefits and why she was setting up the routine the way she did, I realized that I wanted to do exactly what she said, because it all made sense. I was finally motivated to stick to an exercise routine knowing Gina was coming every week to check up on me. I never want to disappoint her or let her down by not following my program. I know she can tell if I have been slacking!

To be honest, I was a little intimidated to meet and start with a trainer! I was nervous for the first day. I was intimidated by the thought of weight training, and also was worried because no one ever has made me accountable to diet and exercise, and I wasn't so sure I could handle it!