"I had it in my head that the only way to control my weight was with lots of vigorous miles and I just didn't have the time or motivation to dedicate myself to that, so I resigned myself to a new "middle aged" body type.
Meet Kathleen Gilroy, Home Bodies client of
the month for July 2008.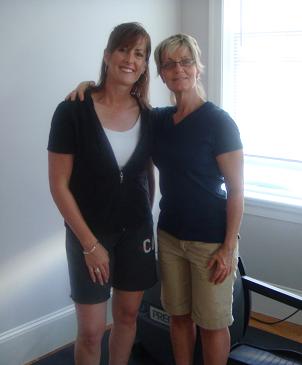 "I was always pretty thin just due to genetics and youth and really under-estimated how far those blessing would take me...because I ate like a pig and it finally caught up with me in my 20's! I took up running because it helped me control my weight (I love to eat!) and did many road races, even completing 10 marathons. I came to enjoy the great emotional benefits strenuous exercise can offer in terms of mood and appetite control, and the great feeling of being strong and in good shape. And since nothing offered comparable benefits to running in my mind, I never cross trained. All those miles eventually took their toll and small injuries became persistent and nagging ones. My final marathon was a miserable, painful experience and I stopped running altogether.

I couldn't seem to find anything else that provided a similar weight control and mental benefit that running did. I had it in my head that the only way to control my weight was with lots of vigorous miles and I just didn't have the time or motivation to dedicate myself to that, so I resigned myself to a new "middle aged" body type.

When I turned 46 I realized I needed to pull it together a bit and made a list I called "46: time to fix" with all sorts of things I wanted to "edit" in my life. Getting in better shape was one, but the one I left until nearly last – dreading what I thought it would take in terms of running miles and time. Additionally, I had had a bad fall from a horse in 2006 that left me with many injuries including a 4th degree shoulder separation. I was feeling fairly vulnerable physically and not so sure I could figure out how to navigate fitness around some of the injuries I had sustained nor was I confident of what I could do with respect to fitness. I have heard that arthritis can develop more quickly in sites that have sustained injuries and I knew that if I wanted to be an active middle aged person and beyond I needed to exercise.

My original goal was to learn the system and then take over doing it for myself which Beth said she'd gladly do for me. But I came to enjoy Beth and appreciate her oversight. I can also say that there are many times that I would not work out if she wasn't knocking at my door, despite my best intentions.

I wanted to lose some weight but was unsure of how much in case -- was my young adult weight was no longer reasonable, etc – I wasn't sure what my body was capable of anymore. However, rather than worry about the end result I quickly just got about the business of wanting to get healthy and stronger.

In September of 2007 I saw an ad for in-home personal trainers. It originally felt like an indulgence meant for others with tons of money and very poor motivation, but I realized that I did indeed have poor motivation when it came to figuring out how to get and stay fit in a new 'middle aged' way. So I decided it was a critical investment in me and my health, not an expense or a luxury (or a sign of weakness).

I met Beth Fahey and the rest really is history…and my personal blessing. In my first conversation with her, Beth first told me that people really needed to love their trainers, which I thought was strange and certainly not what I thought I needed – I just needed someone to 'tell me what to do.' I couldn't have been more wrong! The relationship Beth establishes is so personal, so tailored that it was (and remains) central to my success. She never made me feel guilty that I couldn't 'pull it together myself' and in fact was passionate that we all need coaches to help us along, and that it wasn't a shame or weakness, it was the way human beings were built…to need support.

She also provided a great metaphor about a 'fitness pendulum' where you allow boundaries of which way your fitness level can swing depending on the inevitabilities of life so that you don't become frustrated when your weight or fitness level slips off a fixed target number. This helps me tremendously because I can still have fun and give myself a break when life gets busy or a special food is calling my name. So I don't have the pressure of 100 percent extreme fitness compliance, and I also don't feel immediate failure because I've eaten something extra or skipped a run. It is a practical and workable way for me to integrate fitness into real life. And while she is a realist she also isn't afraid to hip-check me when I take it too far and become a bit too much of a slacker.

Beth recommended reading Clean Eating and provided several sample menus for me. I love the fact that there is room for what we enjoy – it is not 'pasta is good or bad' but rather what pasta means in the context of the day's events. It is not a diet, but rather a living and eating plan for someone who loves to eat. I have really come to love clean eating and though I'm not 100%, I feel the benefits and am a believer and a convert that it is as a better way to approach eating and nutrition.

An amazing by-product of working with Beth is to that my shoulder and surrounding muscles not only got stronger, but also improved incredibly in terms of appearance. The muscles built up around it to the point that it helped masked the appearance of jutting bone, but also the sense of 'instability' in functional movements of everyday life as well as actual exercise. I wish I had taken before and after pictures! You wouldn't believe the difference!

I have also been able to resume running and have completed a 5k, a 5 mile and am about to do a 10K. I have a few half-marathons scheduled for the near future too which is exciting and something I hadn't thought I'd be able to do again. Training has put me back in shape to do what I enjoy. My riding trainer has said that my strength and body position in the horse has improved which I attribute to stronger muscles and a trimmer waist.

Perhaps most importantly (and unexpectedly) is the increased sense of confidence and emotional happiness I have gained. Being in better shape has helped me look better, but also feel better, more confident and happier.

Beth is so positive and so real. She gets that I have bad days, high and low levels of motivation, and sore muscles and she seems to know when to push and when to do something alternatively. Her eyes are on the big picture. I initially felt ashamed if I couldn't deliver 15 solid reps but Beth encourages me about how 'muscle failure' is good. This is a tough concept for us Triple A-types who feel like mastering a rep session is success!

I live in Newburyport MA and have for the last year. Prior to that I lived in downtown Boston and various places around MA. I grew up in upstate NY. I'm self-employed in the media relations business and work out of my home. My hobbies include reading and horseback riding."