If you are in the market for a personal trainer in Lynnfield MA, check out this story from Nadine Romano. She found Home Bodies in-home fitness training and signed on as a client, and she is so glad she did! She even got her entire family on board.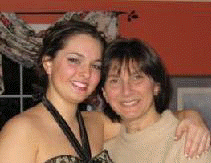 Nadine Ritchie is a client who has come a very long way during the year that she has been training with Home Bodies. Nadine is a success story because she has overcome a number of obstacles that have tripped up many people who don't find it easy at first to stick to a workout routine. By hanging in there and looking for solutions rather than excuses, Nadine is doing much better these days!

Nadine didn't do much exercise before hiring her first personal trainer. Nadine got the idea to try using a personal trainer because she thought her family needed a lifestyle "overhaul." She wanted her husband and two daughters to join in by working out together and eating healthier meals together. She proposed the idea to her family in December and they all agreed it was a good idea. Nadine called Gina after finding her online and they got started in January.

Nadine says, "I didn't even know if something like Home Bodies where the trainer comes to your home even existed. After talking with her, I felt comfortable that Gina would be a good choice. I have never been the type to want to go out to a gym. I thought someone coming to the house would motivate me more and make it easier for my family to join in."

The entire group was making good progress, but eventually everyone but Nadine stopped exercising regularly. Nadine says, "I was disappointed that they did not continue, but I still wanted to keep going myself. I wasn't going to let their stopping the training prevent me from achieving my goals. I understand that they have different priorities than me and I miss training as a group, but I am determined to keep working out for myself."

While Nadine always did a great job during her weekly personal training appointment with Gina, she didn't always complete her assigned workouts in between appointments. Gina coached Nadine to help her develop more internal motivation. The easy way out would have been to schedule more personal training sessions, but Gina was determined to help Nadine increase self discipline to follow her workout schedule...and it worked!

Gina helped Nadine plan out her week in advance so that workouts remained a top priority, and she helped Nadine come up with diet-friendly food lists. Nadine was struggling with putting off workouts until "the next day" and then that next day never came! With Gina's help she overcame this problem. "Having Gina come every week really helps keep me on target. I need someone checking in with me and keeping variety in my workout.

"I have found the nutrition advice very helpful as well," says Nadine. "Gina provides information I do not get at the diet center I go to. She tells me little things about how my body might react to certain foods, such as that the scale might go up from all the sodium when I eat sushi. I have been learning all about how the body reacts to different types of things."

Nadine's measurements have all gone down, and she is fitting into jeans she hasn't been into in years! She has more energy especially at night - she doesn't want to just sit on the couch in the evening or go to bed early.