My main goal when I started home training with Gina was to get into a regular exercise routine. I wanted to make sure that I exercised my heart muscle because heart trouble runs in my family. Some people think exercise wears down the heart. It's actually the opposite, because your heart needs to be exercised to work correctly and stay free of plaque and cholesterol. A big goal for me was to lower my cholesterol via healthy diet and exercise so that I could get off my cholesterol medication. I also wanted to improve my stamina and my breathing. See, I gave up smoking just over a year ago, and got lazy. I was sick all last winter with colds and sinus and ate badly—I used snacking and picking at food as an alternative to smoking. Finally I said, 'Enough is enough!' I knew that I had lost weight and became fit before by starting to exercise first and then adding dieting later on. That was my strategy when I choose to train with Home Bodies. 

I absolutely love the home program I am following! I like the variety of types of exercise we do at our appointments. It varies according to the weather, how my body feels, and what I am in the mood for, but it's always a good workout. I enjoy being with Gina, and I like the convenience of being at home. It's great not having to learn the names of the exercises. I like having a "boss" tell me, 'do this, do that.' I feel very comfortable that Gina is a true fitness professional who really knows what she is doing, and knows the best routines for me to follow. 

So far, by using Gina as my in home personal trainer three times per week, I have noticed improved shoulder and arm strength in the area that was injured in the car accident. My thigh muscle I had injured feels better too. My breathing is better, my clothes fit better, and I have lost several inches off all my measurements. Now, I am happy to exercise, not grumpy about it! Looking to my future with Home Bodies, I hope to lose some more weight and continue to improve my strength and stamina. I also hope to remain healthy enough to stay off Cholesterol medication. 

I grew up in Waltham, MA but have lived in Weston with my husband Michael since 1991. I work as an assistant bookkeeper at Pandiscio and Pandiscio Patent Law in Waltham. Michael and I are owners of Mike Butera Landscape Service. I love to read and I'll read just about anything. I also like to do research on the Internet. I love to walk and watch old movies. I love hanging out with my family, and enjoy all my nieces and nephews. My favorite TV shows are Gray's Anatomy, and The Biggest Loser. I also like to watch The Food Network and Fit TV. Michael and I keep a large garden with just about everything." 
Are you also in Weston MA and in need of an in home personal trainer? Reach out to us by requesting a Price Quote.
Weston MA in home personal trainer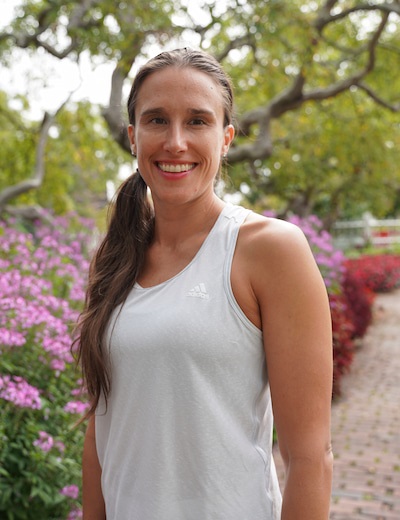 We would love to help you out with creating an in home workout routine! Visit this link for our programs.