When I started working with Gina, I'll be honest—my only goal was to lose weight. Losing weight is great, but gaining the endurance and the muscle and strength overall has changed my life. It has improved my ability to climb stairs, my balance, how well I can get groceries in and out of the car—just everything. I didn't even know I needed to get stronger, but now I can see that I did. I have more stamina to get through the day and I sleep better at night. I brought my cholesterol down from 230 to 169 in a very short time, and I am less than 15 lb. from my goal weight.

Gina provides me with weekly assignments and I go downstairs each morning to discover what the day's workout is. It is so much easier to not have to make this decision on your own. I have a lot in my life I have to make decisions regarding. If I simply follow Gina's plan I know I will be successful.
My routine consists of five days a week of exercise. Most days I am done with the whole thing in half an hour. In thirty minutes you can achieve a lot, which I find really cool. I would hate for exercise to suck a huge chunk out of my day.
Using a trainer keeps you motivated and keeps you honest. I like having the routines written out for me and I like knowing what to do every day. It makes you accountable and it helps when I can have my questions answered that tend to pop up during the week. If my back is hurting I can get something else to do instead. I like that my limitations don't slow down my progress. I could not have made this progress without Gina's help.
I grew up in Brooklyn and currently live in Lynnfield MA with my husband Dave (also a client!) and my daughters Maddie (12) and Lauren (8). I spend my free time volunteering at school. I am on the enrichment committee at the elementary school and on the board of directors at our temple. I love to cook, and I love watching Dr. Oz who is the one who inspired me to get back on the fitness bandwagon! He has a great quote, 'I am a heart surgeon and I would love for this show to put me out of business.' The shape you are in now and the shape you can get into is all up to you. I am living proof!"
Personal Trainer Lynnfield: Get Started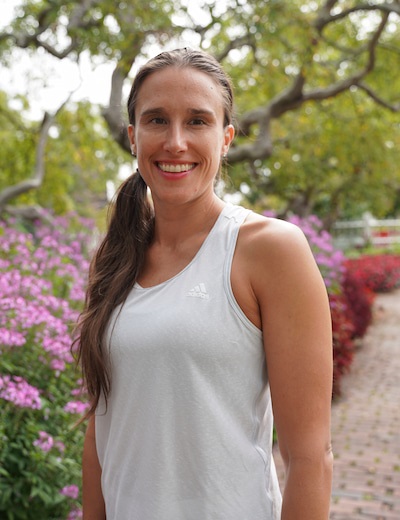 If you are in need of an in-home personal trainer who can travel to Lynnfield, go here for a Price Quote. You can also schedule a Free 15 Minute Discovery Call to discuss your fitness goals with the trainer.