If you're in need of a Personal Trainer in Haverhill MA, you're in luck! Home Bodies is based out of Haverhill MA and we would love to help you with your fitness goals from the comfort of your own home. Let's hear from Kristy about her experience working with Gina Paulhus, owner of Home Bodies!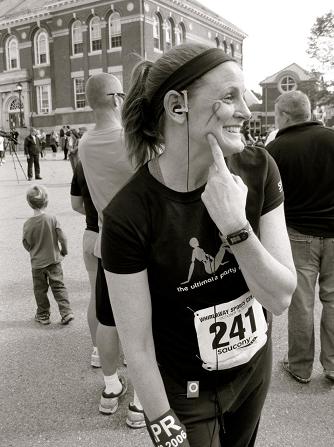 Kristy loves supporting causes she believes in with her newfound ability to complete a road race!
"I have been active my whole life and have always been involved with some type of activity whether it was working out at the gym, playing a sport or trying something new. However, In the past 3 years I had become very sedentary and for the first time in my life, put weight on.... about 26 lbs. I finally decided to try the 'couch to 5 k' which was ok until I realized I really wasn't making the progress I wanted to see.

When I was working on the Couch to 5K program (mind you I have never run for distance before) I realized my progress wasn't what I thought it would be and I was still putting on weight. I finally thought to myself while I was on the treadmill during one of my runs, "I really need to find someone who can train me through this."

I moved to Haverhill MA a couple of years ago and wasn't too familiar with the area, so I went home and looked up personal trainers in Haverhill. I came across Gina's Home Bodies website and loved all the information I found on it. I also liked her philosophy. So I sent her an email to get more information. I had never had a trainer before but figured I'd give it a try. I was surprised to learn that she lived down the street from me right in Haverhill. My goal was to lose weight and to feel better about myself.