Are you in need of Amesbury MA in home personal training? Home Bodies in-home fitness training has been serving Amesbury MA since 2004.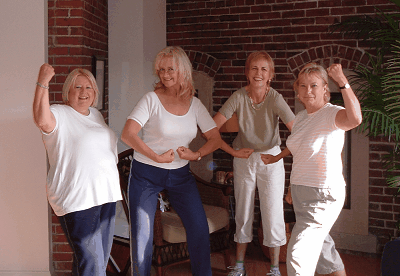 Ingrid DiCenzo, Soni Soulagnet, Loretta Meleedy, and Loretta Moseley love their workout sessions with Home Bodies!
These four ladies live at Hatter's Point in Amesbury MA. These beautiful condos for "active youngsters" 55+ are waterfront property on the shores of the Merrimack River in Amesbury, MA. Soni has been working with Gina since May, and both Lorettas met Gina in August. The three ladies trained as a group through September, and Ingrid met Gina a few weeks ago and came on board with the group in October. They have fun but also work hard during the training – and they all say they look forward to their sessions! If you don't believe me, the proof is in the pudding -- recently they've decided to increase their training frequency to 3 times per week! They are huge fans of the in home personal training model.
Ingrid is originally from Saugus, MA. Ingrid owned "Romano's Bakery," a bakery and coffee shop on Beacon Hill, before she retired. Ingrid had been exercising at Curves in Amesbury when she heard about Home Bodies. She decided to give it a try to see if she liked it. Her main goals for exercise are to be able to move around more easily, to have more energy, to limber up, and to lose weight. She seems to be well on her way, because she is doing great even though it's only her fourth week of training using free weights and bodyweight exercises. She likes to travel – her favorite place is Copenhagen, although she enjoys anywhere in Europe.

Soni is a salesperson for Hatter's Point Condominiums. She's lived in Amesbury on Main Street and at Hatter's Point for the past few years. She started training with Gina because she knew she had to exercise to tone her body, and she needed to be pushed to work her "arthritic body" (her words – not mine!) Although Soni has joined a gym and run in the past for exercise, she wanted more guidance and a person to motivate her to stick to a workout schedule, even when she wakes up stiff and in pain due to the various injuries she's suffered over the years. She likes to travel as well, and recommends the British Virgin Islands and Hawaii.