Triathlon Q & A with Amy Lagone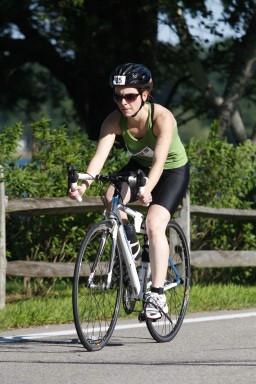 Amy completing her first triathlon in style.


Q: A triathlon, are you crazy? Isn't that only for super fit people??

A: No! Triathlons are for EVERYONE! The triathlon community is a welcoming place. We always love to see people at events running their very first race ever. We were all beginners at some point, and we all love to cheer each other on along the race course. There are even special starting groups for rookies and special awards brackets for first timers. Triathlons sound very intimidating, but if you are a reasonable swimmer, can bike and jog a few miles, YOU could soon be calling yourself a "triathlete"… doesn't that sound pretty bad ass?

Q: In what order do the events go?

A: Triathlons always begin with the swim, then the bike, then the run. There are also events called duathlons which eliminate the swim portion – in a duathlon, the order is run, bike, run.

Q: How far do I have to swim/bike/run?

A: There are many types of triathlons… according to USAT (USA Triathlon). Distances vary from event to event, some are slightly shorter, and some are slightly longer, depending on the location. As you can see, there are distances for the very beginner to the very elite. Sprint distances are the best and safest place to start, unless you have a strong background in endurance training, in which case you may feel comfortable starting with an Intermediate distance. Here are the breakdowns:

"Sprint": ½ mile swim, 12 mile bike, 3.1 mile run
"Olympic" or "Intermediate": 1 mile swim, 24 mile bike, 6.2 mile run
"Half Ironman" or "Long Course": 1.2 mile swim, 55 mile bike, 13 mile run
"Ironman" or "Ultra": 2.3 mile swim, 111 mile bike, 26 mile run

Q: I'm not a big swimmer (or I can't swim at all), can I still participate?

A: Aside from duathlons, you can also compete in triathlons as part of a relay team. Relay teams have special awards brackets. One person swims, another bikes, and another runs. One person on the team can do more than one event, or you can have three to your team and one person do each event. These relay teams can be co-ed.

Q: I don't have access to a pool, how could I practice for the swim?

A: There are many ponds, lakes and beaches all over New England that allow public swimming. Walden Pond in Concord, MA and Hopkinton State Park in Hopkinton, MA both have large public swimming area with lifeguards for example. Search online for parks local to your area, call to inquire about public swimming to be sure it's safe and allowed.

Q: I'm not sure I'll want to do more than one triathlon; do I have to purchase all kinds of gear and equipment to get started?

A: No, you can compete in a triathlon most likely with things you already have stowed away in your garage. You don't need a wetsuit unless you choose a race early in the season when the water is chilly. You'll need some goggles and a good swim suit. Any helmet and bike will do for your first race – mountain bikes are the slowest and usually are not used (but can be if it's all you've got). Hybrid bikes are very common for first timers and will get the job done. Road bikes are best and fastest. If you get serious about being competitive you'll want to purchase one eventually. A pair of sneakers, some shorts, and a comfortable top will do just fine for the run.

More Questions? Visit USA Triathlon and start your training today!

Click here to return to our article database: Free Fitness Advice.