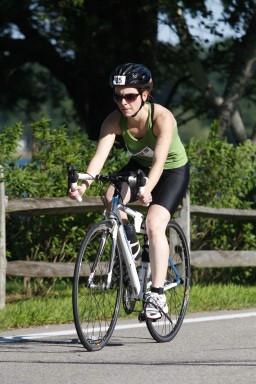 Amy loves the feeling of accomplishment of finishing a triathlon!
Alright! Let's jump right into the triathlon Q & A!

Q: A triathlon, are you crazy? Isn't that only for super fit people??

A: No! Triathlons are for EVERYONE! The triathlon community is a welcoming place. We always love to see people at events running their very first race ever. We were all beginners at some point, and we all love to cheer each other on along the race course. There are even special starting groups for rookies and special awards brackets for first timers. Triathlons sound very intimidating, but if you are a reasonable swimmer, can bike and jog a few miles, YOU could soon be calling yourself a "triathlete"… doesn't that sound pretty bad ass?

Q: In what order do the events go?

A: Triathlons always begin with the swim, then the bike, then the run. There are also events called duathlons which eliminate the swim portion – in a duathlon, the order is run, bike, run.