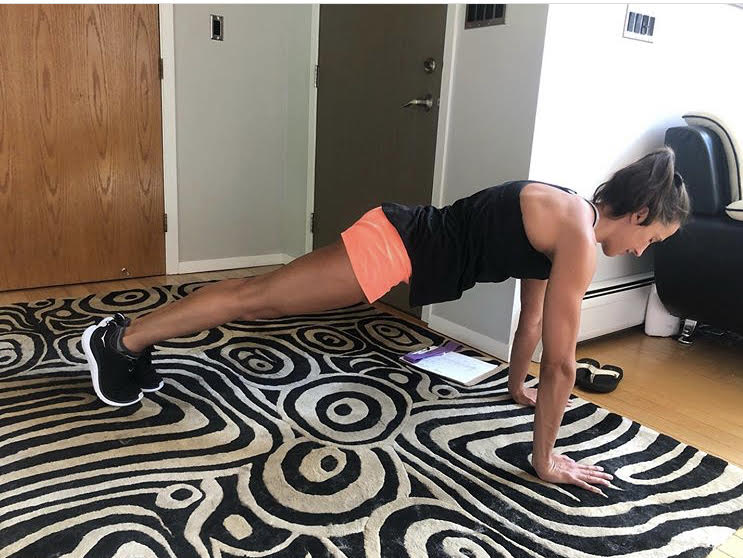 If you have had nagging shoulder pain that is not an injury, our shoulder saver strength program is perfect for you!
This Shoulder Saver Strength Program will help your back and shoulder muscles get into balance, which tends to help with shoulder pain. When the front and back of your body are equally as strong, you will feel a lot better. In normal daily living, the front becomes much stronger than the back and that can lead to problems. Once we have our posture improved, our joints are stacked one on top of each other and it reduces wear and tear, as well as muscle stiffness and tightness. Be sure to check with your doctor to be sure there isn't an injury that is causing your shoulder pain.
Shoulder Saver Strength Program: Instructions
Perform a 10-minute warm-up before the following routine. Perform each exercise once and, for a stronger training effect, repeat the circuit. Choose a weight you can handle easily using proper form.

T-bar row: 15 reps
Inverted V Push-up: 8-12 reps
One-Arm Bent Over Row: 12 reps
Swimming Superman: 12 reps
Seated Rope Pull
Dumbbell Shrugs: 15 reps
Facedown Plank Hold on Stability Ball: 10 to 20 seconds
Rear Pull with Band: 15 reps
Would you like a form check on your Shoulder Saver Strength Program exercises?
Form is the most important thing in making sure that you get the best results possible out of a workout program. Even when you have a video of how to perform the exercises with correct form, it's still hard to know if you are doing things correctly. If you'd like a trainer to take a look at your form on these exercises, you can request a Price Quote. We have in-person trainers in select locations and we also offer video calls.
Have a comment or question about this article?
Please share it here!