5-minute Savory High Protein
Oatmeal Recipe
I am going to share with you my absolute favorite high protein satisfying breakfast. It might seem a little odd, but don't knock it 'till you try it!
If you already have the beef patty on hand, this recipe takes less than 5 minutes!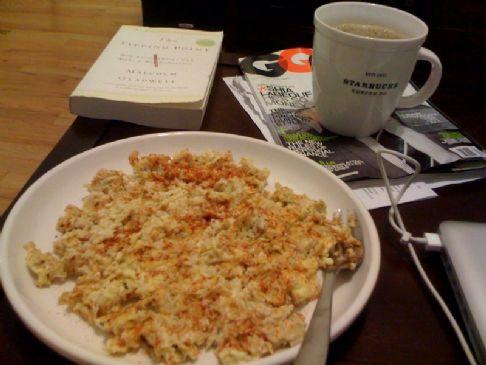 Ingredients:
    *1 packet instant oatmeal (plain); OR 1/3 cup dry oats 
    *3 oz. lean beef or turkey hamburger patty, crumbled
    *1 egg
    *sprinkle of sea salt
Directions:
1. Add 1/2 cup of water and the oats in a microwave safe bowl. Set for 90 seconds for instant oats, or 3 minutes for old fashioned oats.
2. Add the beef or turkey crumbles, then crack an egg and drop into the oatmeal.
3. Microwave for an additional 1-2 minutes depending how hard you want the egg to cook.
4. Sprinkle with a bit of sea salt, stir and eat!
Nutrition facts:
Calories: 290
Protein: 36g
Carbs: 20g
Fat: 11g
Fiber: 3g
Serve with fruit or a glass of v8 or OJ for a complete breakfast.