Gina gave me space if I felt overwhelmed, and I found that I actually missed that feeling of being sore. I guess I also missed feeling better and in control. I finally developed the ability to stay focused on a plan and to continue with it even during tough times. In the past this would have been impossible for me without the support Home Bodies offers.
I look forward to my weekly session with my trainer because she is there leading the way—I don't have to think. When my trainer is there, I feel more confident that I am doing everything with good form. I really like Gina's no-nonsense approach. Sometimes when I am tempted to stray from the program, I think, "What Would Gina Do?"
I also loved the discussion that Gina and I had regarding an attitude I had. This attitude is something that I like to call 'why bother?' Sometimes, if I had something that was off my nutrition plan, I kept eating, thinking 'why bother trying now? The day is already blown.' Gina took the time to show me on paper using numbers what happens when I overeat for the rest of the day (or week) just because I had a bit of junk food. After seeing that, I realized there were tons of reasons why I should bother! Every moment counts!
I have lost weight working with Gina. But here is all I have gained:  I'm fitting into clothes better, I've gone down a size, and I've developed the ability to not overeat or to eat a reasonable portion. I'm able to say no to dessert. My blood results at the doctor are better, I'm able to fast during religious days without feeling too uncomfortable, and my weight is going down. It's a wonderful feeling being able make great choices at work function, holidays, and family events--to be able to think ahead of time so that I have a game plan. I can make a choice to have something and start back on my program 100% the next day.
My current plan is 'Paleo' and I can have one meal off each week; this makes me feel like I am able to be part of society and eat 'normal' food sometimes. I have learned that it is OK to be different from everyone else at work and ask that my food be 'Paleo approved.' I was not always comfortable calling attention to myself and my needs. As a child I remember wanting to fit in and be the same as the others. I had to figure out that my needs are important, too.
Hiring a trainer is the best decision you could make because you're no longer alone in your battle. You have someone doing it with you. I think you're working smart using a trainer. Sometimes you think, 'I'll just do sit-ups to work my belly fat.' My trainer explained that this isn't going to work. I mean, I wouldn't try to fix my car myself..."
Personal Training West Newbury MA: Get Started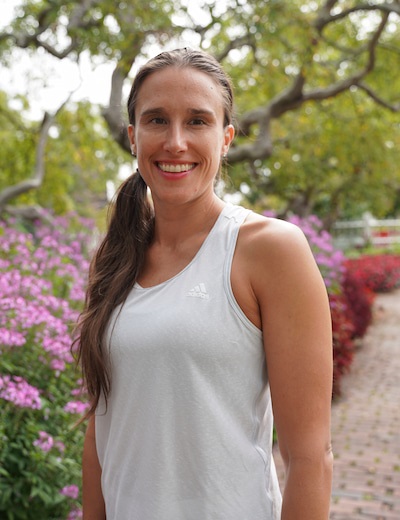 Gina grew up in the West Newbury area and loves to help folks in her community!
If you're interested in having personal training sessions in West Newbury MA at your home, go here for a Price Quote.