Ashley Arpe can rehab someone dealing with an injury or surgery and turn him or her into a healthy, fit individual.
Ashley Arpe serves areas in and around Chicorua, Rye, and New Castle NH
Ashley Arpe is an expert personal trainer specializing in helping clients rehabilitate injury, recover from illness, and prevent the occurrence of injury and illness when training. Ashley also specializes in coaching clients to achieve weight loss both through exercise and proper nutrition. Ashley serves areas in and around Chicorua, Rye, and New Castle NH. 
"Growing up in an athletic family provided me with a practical background in Sports Medicine and Exercise Science. Not only did I come from a family of athletes, but my mother also taught health at the high school level. From a young age my mother taught me many things about health, fitness, and wellness, and I developed a passion for fitness and health at an early age. In fact, when I was just 11 years old I asked my mother for a personal trainer!

I asked my mother for a personal trainer when I was 11 because that year I experienced such a rapid growth spurt that it triggered seizures and memory loss. This caused me to throw out my right hip, requiring a hip replacement and all the rehabilitation that comes with it. As I began to go through the arduous rehabilitation for an 11 year old, I knew right then and there that I wanted to be a Personal Trainer. My life since I've been very young has revolved around health and fitness.

I attended Umass-Lowell for Sports Medicine and Exercise Science. Without it being required by my boss or by a certification board, I decided on my own to attend several seminars in New York City to learn various aspects of personal training, including weight training, functional training, nutrition, physioballs, and corrective exercise training. I won't settle to fulfill the minimum requirement for a personal trainer's education; rather, I am constantly updating myself on new methods from both the Sports Medicine Field and the Exercise Science Field. I enjoy studying the NASM materials that cover the OPT, or optimum personal training methods. I receive and review information from the Therapy Times on a weekly basis. I have designed nutritional guidelines and programs for people using the food pyramid. I like to present the information to clients via the warm, positive and upbeat feeling of coaching rather. I much prefer that to 'yelling at' and 'ordering' clients using a commanding and reprimanding attitude.

I have worked at a number of gyms during my career, and as an in-home trainer for nine years. I know that my passion will always be health and fitness. Lately I have been seeking in-home training opportunities because all the gyms are turning me away for being over-qualified for positions such as fitness director or head trainer. I pride myself on my ability to take clients with injuries or health problems who need physical rehabilitation and turn them into elites athletes. I see no limit to how far a person can go, no matter where they are starting from fitness-wise. My own experience overcoming health obstacles taught me that anything and everything is possible. Also, I picked up lots of hands-on experience and knowledge during the two years I worked for Health South Sports Medicine Physical Therapy. I am extremely comfortable with the physical requirements for weight loss as well as for rehabilitation. Psychologically, I am in tune with clients hoping to get into better shape and better health. I can personally relate to how a person feels when they are hurt or ill. I have the ability to connect with them, let them know that I know how they feel, and help them overcome any self doubts they may have, in the mental or physical realm. I also enjoy and am extremely skilled at working with older adults. One of my 65-year-old clients has lost 30 pounds in less than six months under my tutelage. Age or health problems are not a true obstacle to getting in fabulous shape. I mean, I have cracked my head open, had three seizures and had a hip replacement. Now I am a lean, strong, fit 117 pounds. A positive attitude is key to overcoming obstacles, and I instill that in every client I work with.

Many clients are looking for weight loss in addition to improved strength, endurance, flexibility, and health. When I work with a client who wants to lose weight, I start with a health evaluation to find out what his specific goals are, and the time frame in which he would like to achieve them. Then I set him up on a cardio program, whether it be on cardio equipment, or simply using the home by working on the stairs or in place. Walking or jogging outside are also options. For a beginner, I start with trying to get a quarter-mile or a half-mile of walking out of him. Week by week as he demonstrates readiness we try to go a little further to try to increase cardiovascular endurance--but always building up slowly, only going at the pace that he is comfortable. I generally have weight loss clients perform resistance training with compound movements that involve multiple muscle groups at once. This gets the resistance training done quickly, efficiently, and effectively, and increases the number of calories burned during the workout, which ultimately leads to weight loss when combined with proper nutrition. My nutrition philosophy for weight loss is not about deprivation, it is about abundance—abundance of good foods. I suggest taking in lots of fruits, veggies, dairy, and lean meats every day. I recommend avoiding foods that contain too many empty calories for your activity level. For example, athletes who exercise two hours a day might be able to eat bread and pasta and still reach their weight loss goals, but the gym-goer who has a desk job will simply slow his or her weight loss by eating too many carbohydrates and fats. However, whole grains and healthy fats are an important part of anyone's weight-loss diet. All foods are okay in moderation and when you exercise proper portion control.

Personally, I have kept myself in great shape for years now. In 2003 I was recognized as one of the top performers in a Fitness Challenge hosted by Bally Total Fitness. This fitness test was amongst all the personal trainers, who generally are among the fittest people you'll find. I train myself very hard. For most beginning clients, I prescribe functional training, because it is important to learn how to perform basic body movements with correct form and control. For more advanced clients, I prescribe classic strength training and cardio. For myself, I perform advanced strength training and sixty minutes of cardio five days per week. Overall I spend about 10 hours per week working out to maintain my high fitness level. People ask me how I have the time. Well, I work 40 hours a week, and I have three kids and a husband. I have a lot of responsibility in my life, but I believe there is something wrong if you can't take an hour or two out of the day to do something good for yourself. I manage to get it in by designating a certain time frame to exercise and just doing it. If you're going to the gym, utilize the day care if necessary. If you'll be at home for your workout, let your family know that you aren't available during that time. If you can, find a way to make your workout more enjoyable. Get a workout buddy, hire a trainer for some of your sessions, watch your favorite TV program while you work out, read on the cardio machines, or listen to some good audio programs or music. You give up things. I haven't sat in front of the TV more than once a week for as long as I can remember. I don't always get to do all the social things. But it's worth it to me because I feel good. Commit to setting aside the time for exercise and you'll learn to love it for the results and because it makes you feel good."


Ashley Works With Clients in the Following Communities in New Hampshire:
Chicorua, Rye, New Castle, North Hampton, Manchester, Hollis, Dublin, Elna, Waterville Valley, Hanover, Holderness, Amherst, Eaton Center, Bedford, and Lyme NH.
Here is what Ashley's clients have to say about training with her...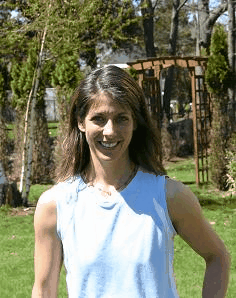 "I can't say enough about how instrumental Home Bodies, Gina Paulhus and her team of trainers have been in both achieving my fitness goals and more importantly, helping me develop a health and fitness lifestyle. Being given the tools and inspiration to incorporate a health-conscious mindset has been invaluable.

I contacted Gina 2 ½ years ago on the highest recommendation of a friend. After meeting with her and discussing my goals, I knew right away that I had taken the right step and found the right person. Gina is extremely knowledgeable and quickly assesses her client's specific abilities and needs. She put together a comprehensive program tailored to my desired goals which included diet advice, weight training and an ever-evolving cardio program. Her program has always been easy to follow and realistic in terms of time commitment and function of workouts. She keeps things fresh by adding new and different exercises, often increasing the challenge of a routine to avoid the pitfalls of boredom and complacency. She really knows how to keep things interesting and fun!

Her Body Challenge Contest which includes a 5k race inspired me to become a better and faster runner. She recommended specific training techniques to help improve my speed and performance. Since then I've enjoyed racing competitively in some local 5k races and finishing with a time I would only have dreamed of in the past! I always enjoyed running but the spirit of competition has added a level of enjoyment that wasn't there before.

When Gina found herself unexpectedly unavailable to see clients I had the pleasant experience of meeting with Ashley Arpe, another Home Bodies trainer. It's obvious that Ashley shares Gina's wealth of knowledge and enthusiasm for fitness. Ashley listened to what I wanted to focus on and came prepared with an appropriate and challenging workout. She had her own approach which proved to be just as effective and motivating as Gina's. Now I feel like I'm even more armed with great advice and options to keep me going on this path to fitness.

In addition to the personalized service Gina offers, her newsletter and website are chock full of no-nonsense advice and vital health information. These are just two more examples of Gina's commitment to share her knowledge and lead others to overall health. To anyone who might be considering using Home Bodies, I can say with complete confidence that you will not be disappointed! My sincerest thanks to Gina and her staff!"

Darlene Mack, Lynnfield MA
Accountant with CM&B Construction Company.


"Ashley is an amazing trainer and I'm happy to say she has become a good friend.

Her warm but forthright style is just what I needed when I decided to finally get in shape after having three children. I worked with Ashley for over two years in my home and she always showed up on my doorstep on time (many times early!) with a smile and usually a funny story to tell as we worked through the weight routines.

Changing up the workouts is one of Ashley's specialties. I'm not sure we ever did the same routine twice, and sometimes we took it outside to the driveway to run drills if the weather was nice. It's reassuring that her training style is so adaptable to both the weather and mood swings! She has an excellent command of physiology, which is important to begin with, but it certainly helped when I had an injury (lower back pain.) Ashley was able to tailor the workout so that I could still work the important muscle groups while avoiding the sensitive area.

Ashley has easily earned the title Master Trainer. Anyone lucky enough to have Ashley in their corner - cheering them on while working them hard- will get in great shape and have a great time doing it."

Meg DeBoer, North Shore

"Ashley Arpe and I trained for about a year and four months. In that time I lost about 22 lbs when my original goal was 15 lbs. Before her, I had no idea what it meant to have healthy fitness goals. I was eating bad and most certainly not working out the correct way.

Before her my workouts consisted of going on the elliptical for a 30 minute session. She taught me how to use free weights to benefit my body type, she taught me different kinds of cardio methods rather than just the elliptical, she taught me what foods I should be eating, and most importantly what I should not be eating. With these lessons, and over time, she helped me reach my fitness goal.

Ashley is someone who cares about what she is doing. When you can find someone that cares about what they are doing it makes all the difference. She lives by what she teaches. She isn't just standing there telling you what to do, she shows you what to do, and she tells you what it will help with on your body, and she practices it herself. She likes to see her clients prosper from her work.

Ashley is great at what she does and I would recommend her to anyone that came to me asking for a life coach and/or personal trainer. She strives to help her clients and she strives to make herself a better person and that is a rare quality in people these days. She will be continuing to help people reach their full health potential for a long time to come, that I am sure of. I wish her the best of luck in all her future endeavors."

Erika Bruzzese


Click here to read about one of Ashley's clients who received the honor of Home Bodies Client of the Month


Click here for a Personal Training Price Quote with Ashley or another Home Bodies Trainer

Click here to return to "About Home Bodies and homeexercisecoach.com"