Personal Trainer in Waltham MA
available to come to your home for personal training sessions.
Martha Gale is Home Bodies
Client of the Month for September 2007!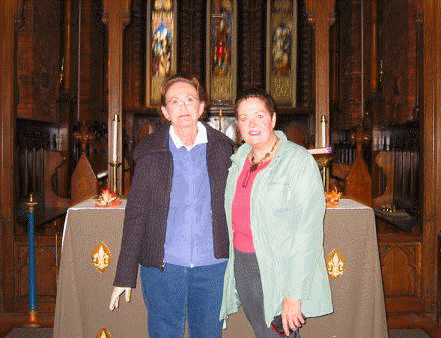 Martha Gale has been interested in keeping fit all her life. She tried the gym and found that it wasn't for her, but she has been following a home exercise program for the past 7 years. Martha needed a specialized program due to health concerns, which is what led her to begin working with trainers.

Upon moving to Waltham last year, Martha began searching for a new trainer. She found Home Bodies online and had a conversation with Gina. Martha had a number of physical limitations including arthritis in her knee, artificial hips, scoliosis in her back and some rotator cuff issues. Naturally, she was concerned if her new trainer could design an exercise program appropriate for her. After discussing her situation with Gina she felt that Gina would be able to help her. "After my first session with her, I was convinced," says Martha. "Gina gave me the sense that she understood my physical limitations. She has exceeded my expectations!"

Martha had not worked out for a couple of months during her move and had lost quite a bit of muscle. She wanted to start a program to regain that lost ground and lose some weight.

Martha loves that she has been steadily seeing results following her full-body weight training 2-3 times per week. "Every several weeks Gina tweaks the program depending on my progress," says Martha. "Gina is very professional. She gives you the sense that she really does understand your physical limits but encourages you, without being pushy…to challenge yourself. You will not improve if you don't push yourself."

Gina understands the muscular system better than the two other trainers I have had," Martha continues. "I don't think they understood my physical situation as well as Gina does. With my other trainers I remember having injuries, major cramping and being sore all the time. Now I look forward to the workouts. Gina is very concerned with form while performing the exercises--that really does make a difference!"

Martha has a few words of wisdom for anyone who suffers from pain who is thinking about exercise. "When you have aching or pain, the last thing you want to do is exercise. But IT IS exercise that makes you feel better. It took me a long time to understand that and commit to it. Listen to your body. When you're aching and in pain, rest. But when you're not you can exercise. You can let pain manage you or you can manage it. You need to start SLOWLY and make sure you are doing the exercises PROPERLY so you don't injure yourself. The other import piece is CONSISTENCY. Doing something about your situation is very empowering. I work out because it makes me feel better physically and mentally.

Martha Gale grew up in Newton MA. She lived in California for 6 years and moved back to the east coast in August of 2006. She currently lives in Waltham with her husband Ken. She likes to travel and enjoys boating, cooking, reading and decorating.
---
"I like the variety of the exercises in my routine--It's not monotonous! I have taken off inches all over and my body is firming up. Parts of me are 'lifting' and becoming much more toned. I have more energy during the day. I am able to get around now without aching or cramping."
–Martha Gale
---


Click here to read more success stories from Home Bodies clients.

Click here for a Price Quote for your own personal trainer