"I am passionate about helping people
change their lifestyle to a better one taking their best interest at heart.
My deep knowledge and experience
is what sets me apart."
Slavka Johnson provides in-home personal training
to Sutton, Auburn, Oxford, and Webster MA
and surrounding communities.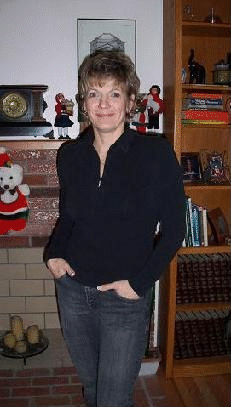 My name is Slavka Johnson and I am an AFAA certified personal trainer and group exercise instructor. I was born and raised in Czechoslovakia and I have a long relationship with sports. I was a gymnast starting at age 5 and I loved to move like most kids do. I was fortunate enough to have great coaches (so I know what it means to work with knowledgeable and skilled professional) that brought me to reach great heights and success in the sport. I was nominated for the Olympic team when an unfortunate injury took me out of that experience 2 days prior to the games. That dark moment helped me closer understand people who are down on some level (emotionally or physically) and made me stronger.

After I recovered I started to work and coach in gymnastics. I was still active playing volleyball, swimming, running track, rowing, skiing and more. I have experienced a wide variety of sports. I decided to get my college degree in physical science. Then went on to receive my masters degree. After receiving my masters I taught at the University in Czechoslovakia and became more health conscious. I tried to practice as I preached.

I moved to the USA about 16 years ago and worked as a gymnastics coach for many years. Nutrition is one of my points of interest. I have been a fitness professional for 25 years. I have taught many forms of exercise including strength training, and aerobics.

I firmly believe that regular exercise is the best form of preventative medicine. It is great for you mentally and physically. Regular exercise helps you feel good about yourself and preserve a higher quality of life until a very mature age. Pilates is one of my favorite forms of exercise. It strengthens, lengthen and tone your body without abuse.

I am passionate about helping people to change their lifestyle to a better one taking their best interest at heart. My deep knowledge and experience is what sets me apart. When I take on a new client we sit down and analyze the past and present. Together we find the way to change one step at the time and customize their routines. As the time progresses they have a long road of changes behind them and a new found body, health and confidence. Give yourself a gift to be the best you can be...That is why I love my job.... -


Slavka's Qualifications

• P. J. Safarika University , Kosice Czechoslovakia ( Slovakia) Doctor of Pedagogy, equivalent to a masters degree in Physical Education and also masters degree in Russian Language and Literature
• Certified personal trainer thru AFAA
• Certified group exercise instructor thru AFAA
• Attended practical Pilates workshop, partner-assisted stretch workshop and foundations for health and fitness professional.
• CPR certified


Here's what Slavka's clients have to say about personal training with her...
"My trainer Slavka Johnson is great...I just love her. I really look forward to when she comes. Slavka always brings her "A game". She always encourages me and lifts my spirits when I'm down. I tend to get bored after a while with the same old thing and it causes me to slack off or stop all together. I don't have that with Slavka's program!

My attitude toward everything is better since I've been training with Home Bodies. I started at 240 lbs. on 1/28/08 and am now 214 lbs. 7/8/08. I have lost 17.25 inches on my body overall - 6.75 inches alone from my waist and 4 inches from my hips. I couldn't be happier!"

Pam Campbell of Sutton MA.
Home Bodies client since January 2008.



---
Slavka Johnson serves Sutton, Webster, Oxford, and Auburn MA and surrounding communities. She works with clients on many levels with different interests, including athletic training for sport events, shoulder and back repair, knee replacements, weight loss, and pregnancy fitness.