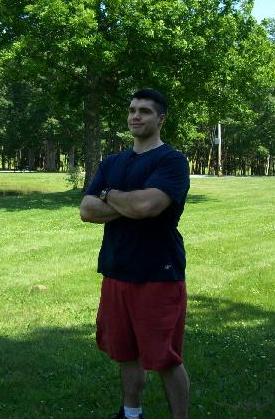 Dan Baker is passionate about helping others find their way with fitness.
"Having grown up in a family whose members all weigh at least double what they should, I know very well the feeling of 'having the deck stacked against me.' I first became interested in fitness when I was 11 years old after getting involved in an after school wrestling program so I could gain the strength and stamina needed, not only to go up against but to survive the much older opponents I was being matched up against because I was so heavy at 230lbs. Later on in my late teens I became a natural strength athlete and started training towards competing in local strongman competitions but quickly developed knee and shoulder problems. I had to take 6 months off to heal then started back working out again along with physical therapy, trying to slowly regain some of my former strength. After 3 months of little to no progress I decided that my career as a strength athlete was not to be at the time. I decided to finally make an all out effort to lose the tremendous amount of extra weight I had carried around my whole life. I started out in 2001 at 390 lbs. and finished in 2003 at 230 lbs. through nothing but weight training and a overhaul in my diet. This wasn't easy, because my knee couldn't take more than 20 minutes of walking 3 days a week and my shoulder swimming once every other week.

For the past 6 years I've worked in retail helping people make educated decisions on the vitamins, supplements and pieces of fitness equipment they choose in making changes towards bettering themselves and their family's health and fitness goals. The problem with retail sales is that all the big box companies have ever increasing quotas that they demand of their associates, no matter what it takes to achieve those numbers. I felt that the numbers were more important to the company than the best interest of my customers. I was not comfortable with doing "whatever it took" to reach those lofty numbers. I've always enjoyed being a resource for my friends and customers both inside and out of work, routinely getting stopped in the grocery store or somewhere else while out running errands and getting asked if I could answer a few questions they had or to give some feedback or tips on some ideas or problems they were encountering.

I had trained friends and family off and on over the years and always thought about becoming a personal trainer but repeatedly put it off on the back burner because of time and money constraints with work, school and family. Eventually I decided enough was enough--and that I was leaving the rat race to do something which I loved and to make a real difference in peoples lives like never before. It's so rewarding hearing back from people month after month of how amazed they are at the strength and endurance they've gained at everyday things. Taking in groceries, lifting or moving something at work, helping a friend move or performing yard work that was once so hard has now become incredibly easy and they are able to get it done in a fraction of the time it originally took them.

With a new client I begin by going over their health and exercise history, finding out what their goals and expectations are, and finding out what they would like to improve physically or lifestyle/habit wise or which they feel is a problem area holding them back somehow. After that I teach them how to use their surroundings and imaginations with things around the home in developing an exercise program using minimal amounts of equipment and time as well as teaching them healthier food choices when it comes to dining and cooking. If a client already owns equipment and wishes to learn how to use it properly, I can offer that advise as well.

Over the years I've worked consulting with people trying to meet a tremendous array of different goals. This includes women and men both young and old trying lose weight, gain strength, tone and improve mobility or function, high school and college athletes who want something different in their training or to bring their nutrition to the next level, and those who have retired or whose children have gone off to school and finally have the time to do something for themselves for a change. I can also help clients learn to maintain their weight loss and fitness gains, which can be easier said than done as the tendency is to 'slack off' once you're reached a goal or milestone.

Learning proper form especially in some of the more complicated movements along with the importance of function, balance, moderation, planning and periodization is critically important for anyone's immediate and continued long term success in reaching their fitness goals, as well as learning to listen to their bodies' own subtle cues. When starting out I believe in making small steady changes in diet and exercise routines that build upon one another. We all fall down from time to time but it's the getting back up that builds character and proves ones' mettle against adversities in life. Learning to never give up, digging deep within oneself, then refocusing on the promises and goals that you silently made to yourself and finding the strength to carry on against all odds is what it takes to succeed. Eventually in time by building this way step by step, brick by brick, you'll look back one day and realize you've achieved something you once never would've imagined possible back when you first started. And I'd love to be there to help guide you through this process if you're in need of personal training in the Portland Maine area."