Home Bodies can provide you with a personal trainer in the Plymouth MA area who can meet with you in your home or through video calls! Let's hear from Bill about why he does what he does!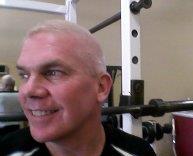 "My story of how I got into fitness is similar to many clients I have worked with.  I started going to the gym in my late 20's.  I liked the way it made me feel and I gained functional strength, felt better, lost a little weight and enjoyed the "fitness" lifestyle.  The only problem was, I had no idea what I was doing and picked up a lot bad habits along the way, because I was never properly trained in exercise science.  I was often surprised or confused when I hit plateaus and was frustrated with my weight because I wasn't eating properly.  
In my early 40's I met a trainer who changed my life.  He is a world Record-holding power lifter and a has trained all types of clients since the 60's, including Rock Stars, NHL, NFL athletes and even the Brazillian Olympic team.  This man became a trainer, a mentor to me and a best friend.  After training with him for a number of years I have learned a vast amount of information about resistance and strength training.  Though his influence I aspired to help others experience the same transformation I went through, from a guy who just liked to go the gym a few times a week into a an American record holder for my age and weight in the sport of powerlifting. 
I found out that if a person trains with an expert who can help them reach and strive toward their physical goals that they can be successful at reaching their goals.  I want to help people reach goals.  I also learned that exercise is one of the best methods of dealing with stress.  I have a background in working with others and I enjoy helping people create a new positive in their life by working on physical  health, which in turn improves their mental, emotional and spiritual health as well.  Also I enjoy the bond that sometimes manifests itself with client – trainer relationship.
When working with a new client, I always start with a medical questionnaire followed by a full physical assessment.  I like to get a snapshot of everything from blood pressure/Pulse to Body Composition, Body measurements, and then I do as part of an assessment a Cardio test, a muscular strength test, a muscular endurance test, and a flexibility test.  I like to re- assess every 4-6 weeks to keep an eye on progress or lack thereof.  I always talk diet/ nutrition with my clients from the get go because it's impossible to out-exercise poor eating habits.  I also talk with the client about a proper cardio program to help not only with weight loss but cardiovascular health.  I always talk about a client's individual goals, and work to prescribe a sensible program that will help them to get on and stay on the road to achieving those goals.
Strength and conditioning are my fort e'.  But what I choose for training with a client always depends on the clients Goals and their needs and abilities.  I have run a marathon, competed in triathlons and 10k's, and am a competitive and record holding powerlifter.  I am a big believer in Circuit training.  I have some background in boxing that I incorporate also.  I have expertise in cardiovascular conditioning, and always strive to work with my clients to help them improve.  In exercise science there is a theory called "periodization".  In layman's terms this means: a gradual increase in the clients ability to get leaner, fitter, stronger by increasing the load of work over time.  That's my way of training.  All I need is for the client to be consistent--then we can do great things!
I have also trained many clients with a variety of issues including Type 2 diabetes, cancer, Heart disease, pregnant women, and the morbidly obese.
I believe that you cannot out-exercise a poor diet.  There is no one-size-fits-all cookie cutter diet for nutrition – every person is different and may have certain food allergies etc.  I also realize that old habits do not die quickly when it comes to food.  With diet, just like exercise you have take a snapshot of the current situation.  I have my clients do a journal, and then we go from there.  Simple math also works when it comes to weight loss and improved Body Composition.  I work with clients to inform them the number of calories per day to consume to create a deficit to produce weight loss.  Starvation does not work--occasional fasting does.  Foods don't have labels, food products do. Protein is important when trying add lean tissue.  All three nutrients are important the body needs Protein, Carbs and Fat.  Eliminating any one of these three is harmful.
I have a mobile DJ Business as well in the Plymouth MA area, work at a local high school as a safety aide, and enjoy high intensity activities such as Frisbee, snorkeling, Playing pool and playing the Bass."