Helping people meet their goals
and live a happier healthier lifestyle
is what I'm all about!
Meet Bill Boylan, Home Bodies personal trainer
to Greater Manchester, NH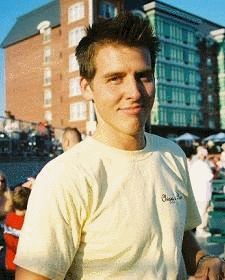 Helping people meet their goals and live a happier healthier lifestyle is what I'm all about! My interest in fitness first started when I graduated from high school. I was out of shape, overweight, and had no idea of what exactly I wanted to do in my life. I had a full time job and would always make excuses for why I couldn't work out or take the time to eat properly. My energy was non-existent, and my motivation to stay active was nowhere to be found.

I woke up one day and realized that I had to make a positive change in my life. I began to run after work, and cut junk food and sugar out of my diet. I also started reading everything I could on nutrition and exercise. I made myself a student of the subject of exercise and health. It is truly my belief that my commitment to a healthier way of living saved my life! I was on a bad track for awhile there.

Because I have seen such a positive change in my own life, I now devote my life to helping others experience the same benefits. Energy is contagious, be it positive or negative. We are very in tune with our surroundings and many things affect us in a good or bad way, whether we like it or not. We all know of someone from school or work who just drags every one down and leaves us feeling drained after every encounter with them! That is negativity breeding negativity, and is something that I help all my clients overcome. We all are susceptible to that little voice inside our heads that tells us we cannot do something or that a certain goal we wish to achieve is foolish or beyond our reach. Fortunately positive thinking and a healthy frame of mind is just as contagious, and I have helped many clients realize goals that they thought were un-realistic. I am 100% confident in this belief because I am living, breathing proof that such things are real.

I truly love what I do. I have the utmost respect for anyone who decides to undertake fitness as a serious component of their life. When I first meet a new client, I am most interested in what his or her true goals are, and why they decided to make such a positive decision for their future. As a trainer it is very tempting to lead people into programs and habits that you think will benefit them the most without truly hearing them. It's very easy to make a program that someone has to fit their lifestyle around. The hard part, and the true beauty of being a personal trainer for me, is making a program thatfits my client's lifestyle.

Having served in the U.S. military, I know how to motivate a client when necessary, however the real drive to stick with a program and succeed is usually generated from within themselves. My personal philosophy on training is this: When it is time for our exercise session, you're not paying me to rest, you're paying me to work you out! So why not get the most done in the least time possible? I am a big believer in full body weight training done three times per week using dynamic and compound movements to get the most bang for the client's buck. This works very well for the majority of people. I am also an advocate of keeping things simple, and most importantly fun. There is no need to throw every complicated exercise in the book at a client during the first few sessions. Having said that, I do train everyone individually--no one set method is right for everyone. I have worked in gyms who wanted cookie cutter trainers, but I was not satisfied to work in that setting. After all, there is no such thing as a cookie cutter client. We all have wants, needs, and desires that are individual, and that should be taken into consideration by the fitness professional.

In my free time I love being active and outdoors. My hobbies includehiking, running, ice hockey, swimming, and horseback riding. I am currently training to run a mini sprint triathlon this spring with the hopes of participatingin a full length triathlon this fall.

To the people who subscribe to the Home Bodies newsletter and have not yet began working with our fitness staff, you should really congratulate yourselves for taking the first step towards a healthier lifestyle. Remember to keep things simple to start--all this information can be daunting at first. Have fun, be fit, and get functional!

I received my bachelor's degree in Exercise Science from the University of New England in Biddeford, Maine, and also became an NSCA certified personal trainer during my time there. While working at UNE I developed relationships with many clients and truly made some lifelong friends in the process. I have experience with many different types of clients, including bodybuilders, working moms and dads, college athletes, teens, as well as the elderly and those with special needs. I have a great deal of knowledge regarding cardiac rehab, as well as specific sports and functional training modalities, including speed, agility, and plyometric exercises.

As a trainer it is very tempting to lead people into programs and habits that you think will benefit them the most without truly hearing them. It's also very easy to make a program that someone has to fit their lifestyle around. The hard part, and the true beauty of being a personal trainer for me, is making a program that fits my client's lifestyle.


Bill Boylan's Qualifications

• University Of New England - B.S. Exercise Science
• NSCA Certified Personal Trainer
• TNT : Top Notch Training
" Have Fun, Be Fit, Get Functional!"




Bill Boylan's Clients
Cannot Rave Enough About Him!
Read testimonials from Bill's Clients Here.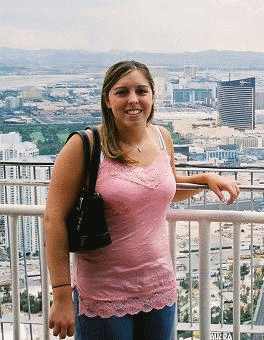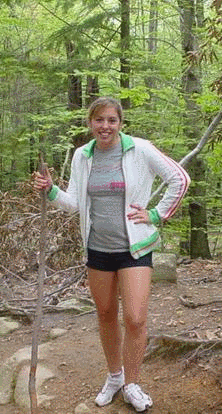 "Being in med school and trying to find the time to work out has always been hard for me. Between classes, clinics, study sessions and commuting time it's always hard to find the motivation to work out. Working with Bill has been instrumental in helping me meet and maintain my goals of having a healthy lifestyle.

I don't have a lot of time to work out, and I like the fact that the sessions are shorter than I am used to, but also very intense. Hiring a personal trainer is in and of itself a very motivational event. I always find myself trying to find time to work out during the week because I want to improve for my session each week...after all, I wouldn't want Bill to think I was slacking off! I also like the nutritional guidance I have received. Having a strategy of eating well throughout the week has made me feel more energized throughout the day despite the amount of stress I have from school. I am still impressed with the changes I have seen in just a few short months. Thanks again!"

Maria Kenney
Biddeford, Maine



"Thanks for my program, I'm not used to working my muscles in that order. Having something written out for me to follow gave me more of what I was looking for as far as progress. I never really liked going to lift and not knowing what to do until I got there. Now I feel like I have a plan of attack. It was challenging to keep a diary but definately helpfulwhen looking back to see improvement."


Craig O'Donnel
Standish, Maine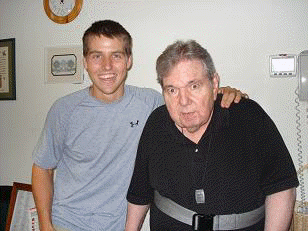 "I tried personal training in the past to help strengthen my body in order to help offset some of the negative effects of Parkinson's disease.

Unfortunately I was left without a trainer for a period of time and my strength and endurance quickly deteriorated. I knew he had to get moving again and felt that Home Bodies was the answer. I began with my trainer, Bill Boylan, and immediately my life and my health began to take a turn for the better.

My main goals when starting were just to lose a little weight, but now I attributes all the hard work I have put in during my sessions with 'helping to save my life.'

I have improved my fitness level from being essentially immobile to now being able to take significant walks during my sessions, as well as visit family and friends outsideof the home. I am now committed to making exercise a major portion of mys life and I have improved both physically and mentally because of it."


Charlie Liponis of Andover, MA.


"Knowing what to eat and when to eat it is my main problem. You're nutritional counseling was very helpful. Just knowing some healthy alternatives to some of my favortie foods alone was worth the price of the program! Now I feel better armed in most any situation to make a good decision about what I eat. I also liked the accountability I had to show by filling out a food diary, it definately helped me see just what I was eating."

Christina Fucca
Lowell, MA


"The hardest part about working out has always been getting the motivation to get off the couch and actually do something. Though I'm not dreadfully out of shape, I feel like I need to do something to stay healthy. Bill has been such a great influence on me. Being my trainer, he has been so motivational to me and gave me the inspiration to take care of my body and appreciate it. Bill keeps me interested by always switching up the workouts so that I don't get bored doing the same thing all the time. His workouts target all muscle groups and he teaches me new exercises that I would have never thought to do on myown.

He also has such a positive attitude that he brings to every session that makes me feel good about what I'm doing. After training with Bill I have not only slimmed down and toned up, but I have felt more energetic than ever and really care about my health. Thanks Bill!"

Cindy Kenney
Derry, NH




"My sessions with Bill Boylan, in one word, are fun! They are hard work, but I feel like having a good rapport/relationship with your trainer is key to your success. If you are able to laugh along the way, it makes it that much easier to enjoy it. Bill has always been flexible with what we do and gets a sense of how I am feeling and what I am ready for in each session. From my perspective, to stay motivated, it is important that you have someone who is focused on you and not just putting programstogether that don't suit you or are more in the interest of the trainer.

My results have been great. I think everyone is different, and you get your results at the pace that works for you. Over the past year I have lost 35 pounds and gone down 4 pant waist sizes. I also think that I able to let things "roll" off my back that were bothering we and have become better at acting on things instead of just worrying about them."

Mike Myhre
Home Bodies Client since January 2006.



Health and Fitness Articles by Bill Boylan
Take Responsibility for Your Fitness
It's not easy to work out and eat right when you have a stressful life, but you need to take responsibility for your health and make it happen! You have the power to change!

Military Core Values and How I Apply Them to My Training
It's not easy to work out and eat right when you have a stressful life, but you need to take responsibility for your health and make it happen! You have the power to change!

Holiday Madness Calls for Time Crunch Training
When your schedule is at it's busiest it is important to have a short but effective workout to do, so that all your fitness efforts don't go down the drain. Learn a short, effective workout here.

Five Surprising Foods You Should Add to Your Diet Today!
Everyone knows the basic foods that are considered healthy, but do you know about these five surprising foods you should be eating? These five super foods should be added to your diet today!

'Healthy' Foods That Really Aren't
There are certain foods that are viewed as 'healthy' but they really aren't. Learn which 'healthy' foods you should NOT be eating.

The Fat Loss Fairy

Acupuncture Points for Exercise Recovery and Injury Prevention

Leave your Comfort Zone, See Big Results!



---
Bill Boylan is available to Greater Manchester NH.

Please fill out the form below to request a price quote if you would like to hire Bill Boylan as your personal trainer.

Click here to read bios of the other Home Bodies trainers.