Home Bodies Client of the Month for May 2011 is Jamie Freedman of Georgetown MA!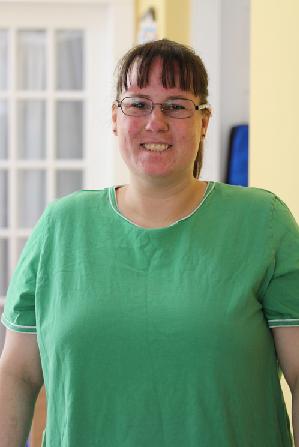 Jamie loves the fact that she doesn't have to worry about childcare or driving to the gym!

"Sports have been part of my life since I was a child, whether it was my dad playing softball, my brother playing baseball & football, or me playing catcher in softball, I have always enjoyed sports by cheering them on or catching a Red Sox game. I knew that fitness was important for a healthy life and playing sports was a "fun" way to get the exercise in.

During college I walked all the time since I attended college in Boston. Once I moved away from Boston and used my car as my main transportation exercise was on the back burner.

My husband and I purchased our home in December of 2009 and the previous owner left us her state of the art weight center in our basement. Neither of us knew the first thing about what would be the correct way to work out. So, we did a little bit of research and stumbled upon Home Bodies and found out that they come to you, rather than you go to them.

Initially my husband and I mainly wanted to learn how to use our machine. However, we found that we really enjoyed the sessions with Gina and the variety and motivation of having her come regularly. We have met with Gina either once or twice a week ever since.


---
From my past experiences with trainers, I felt that trainers pushed me to the point of quitting. Gina she makes me want to do it. She doesn't pressure me but makes me want to stick with this.
---


I feel that Gina works us hard, but not to the point of wanting to quit. She works us to want to move to the next level when we are ready for it. She is understanding if we are not feeling well or we had a really long day, since we don't meet until 8pm!

When I began working with Home Bodies, I had the goal of getting in better shape and losing weight. However, 4 months into working with Gina I got pregnant with our second child. I continued to work out with Gina throughout my pregnancy, I think there was only two weeks at the very end I didn't. It was great to be able to continue where I left off once I recovered. It was nice to know that I could safely continue to exercise while pregnant, and that I could ease back into working out without

My workout is different almost every time, which I really like. I don't think I have had an old one more than twice. I really like that she switches it up because it keeps working out new and exciting. I like that she throws exercises that I have done in the past in with the new ones, but most of the time I need to ask her for a refresher example. What is old is new again when you haven't done it for awhile. It keeps my body guessing.

Gina pushes me but not overly so. She encourages me and praises me when I do well. She is very patient with us since we have two young boys that sometimes show themselves in our sessions. She lets my husband and I work out during the same session. Gina is really good about scheduling and rescheduling when life gets crazy.

The best result I have enjoyed is that I have lost weight! I am just about down to the weight I was before I got pregnant with my first son. I am so much stronger and all my clothes are looser. I struggled with breathing when I first tried running again, but Gina set up a treadmill workout that I could manage to start with and she built me up from there.

If you are thinking about working with a trainer, make sure you choose someone that you are comfortable with. Let them push you to want it, not push you to the point that you just want to give up.

My family lives in Georgetown MA. I grew up in Peabody and spent some time living on the west coast. My favorite thing in life is to enjoy being around my husband Chuck and our two boys. I love watching the Red Sox, movies, taking pictures, and being around friends and family. I am a stay-at-home mom. I attend school at night a couple of nights a week to work towards another associates degree in Graphic Design."

Click here to return to our Client of the Month page