Personal Trainer available in Boxford MA to work with you in your home.
Home Bodies client of the month for
January 2008 is Greg Reid!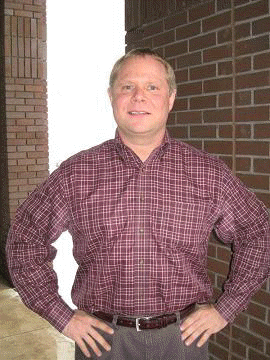 Greg Reid first became interested in fitness in high school through jogging and weight lifting. At that time, fitness was more defined as muscle mass or thinness than lean or healthy lifestyles. In college he became interested in Martial Arts and continued that for another 10 years.

Before starting with Home Bodies in late December 2006, Greg wasn't in great shape, which is what led to his interest in using a personal trainer. Home training made sense for him because he already had a well-stocked home gym and his demanding work schedule didn't leave time to get to a gym regularly.

Greg explains, "My cardio capabilities were good…But I was overweight, eating the wrong foods and had little tone in certain areas, such as my arms and stomach. At 42 years old, my body was going in the wrong direction."

Greg explains, "I wanted a trainer who focused on the Core training principles. I figured that once the core (meaning the abs, obliques, lower back, and stability muscles) was in good shape, I could add muscle mass. Home Bodies training offered the flexibility for me to focus on what I wanted to and make adjustments as I worked the program."

"My expectations for personal training have been greatly exceeded," says Greg. "Professionalism is very important to me. Gina has always been upbeat, yet professional. The training programs have worked entirely different parts of the body and have provided me a much stronger physique. The nutritional information has been most helpful. I used some initial supplement advice. It helped me lose a great deal of weight. I initially expected more of a 'grunt' motivator; I got a much more holistic approach to health than I anticipated."

Greg's initial goal was to lose weight and improve the conditioning of his Core. He still feels he has about 10-15 lbs to go, but has come most of the way. Now his focus is on overall health: Diet, leanness and physical / structural strength and flexibility.

Greg likes that his workouts always include every muscle group. His routine is updated regularly to keep up with his improved capabilities. "My routine still focuses on core strength training, which is most important to me," says Greg.

"My trainer is always professional and encouraging," says Greg. "She is able to always get the best out of me; more than I thought I could accomplish. Compared to other trainers that I have observed in large commercial gyms, Home Bodies trainers are fully and completely focused on their client, not how good they, the trainer, looks in the mirror! The sessions always start on time. They are efficient. I couldn't ask for more!"

Greg's results have been excellent. His waist dropped from 40" to 34." He performs cardio sessions for over an hour at a time. He has much more energy available to do the things he wants to do, and needs less sleep. He has worked hard for these results. "I have put a lot of my energy into the program. There wasn't any alternative than to become healthy," says Greg. "Without health, we are nothing. We are unable to accomplish our goals, care for our family and do what we love. Like anything good, health is an investment of time, money and effort. The return is quite high, however. As CEO of a company, health still remains at the top of my goals. Without it, I wouldn't be able to accomplish my goals as a leader. I have learned a lot from Tony Robbin's (the tall personal power speaker). His approach to diet has worked wonders for me and I execute on that diet daily."

"Greg genuinely puts 100% effort into every workout," says Gina. I usually see him at the tail end of a long and travel-intensive workweek. We meet on Friday evenings at 5pm after Greg put in a 10 to 12 hour day, and being away from home for 5 days most weeks. The last thing he probably feels like doing is lifting weights for an hour, but he always rallies. I will throw extra reps onto a set (called a drop set) and he always does his best without complaining. He welcomes a hard workout—he doesn't shy away from the effort. He dives in with full force. I can tell he's a guy that doesn't do anything halfway. That makes him a lot of fun and very rewarding to work with."

Greg resides in Boxford MA. He has lived in many and various places including Singapore, London, Sydney, Chicago, Detroit, Kansas City, San Francisco, etc. He is CEO of InFuture LLC. In his free time he likes to fly his plane and scuba dive.



---
Home Bodies was Greg's first experience with a trainer. His first session was a gift from a friend. I knew that Greg would be an especially dedicated client when I offered him an appointment a few days out from when he called, and he said, "I am really eager to get started. Do you have anything tomorrow??"
---


Click here to read more success stories from Home Bodies clients.

Click here for a Price Quote for your own personal trainer