As seen in Vogue, body+soul, FOOD MATTERS, and mindbodygreen--


Here is Lee coming to you from Australia with her tips to make healthy lifestyles work.
---
Recently I had the pleasure of interviewing Lee of Superchargedfood.com. Lee's mission is to help others feel as well as she has been able to feel due to changes she made in her diet and lifestyle. As seen in Vogue, body+soul, FOOD MATTERS, and mindbodygreen--without further ado, here is Lee!

---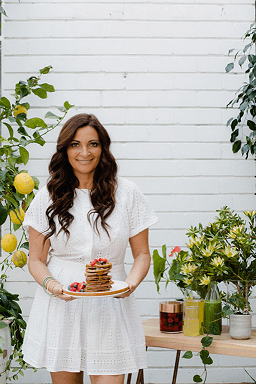 What circumstances led to you the health and wellness industry?
About seven years ago, I was a single working mum with a fast-paced career at the ABC in Sydney, when I suddenly became quite ill. I became overly tired, felt aches and pains across my whole body, my hair started falling out and my skin was covered in hives. I soon found myself in and out of hospital and was later diagnosed with autoimmune disease and fibromyalgia. After struggling with numerous amounts of steroids, antibiotics and immunosuppressant drugs, which only made me feel worse, my doctors agreed that I could wean myself off medication if my health started to improve with dietary changes. I researched the medical capabilities of food and ingredients and began to simplify my diet and steer clear of triggers. After seeing changes and links between my diet and the symptoms I was feeling, I began to create recipes, document my process and discoveries. From this I planted the seeds that became the roots of my
blog.
Did you ever experiment with a fad diet, and what was the outcome?
After I became aware of the link between diet and health, I started experimenting with consuming less amounts of trigger ingredients such as additives, MSG and highly processed foods. When I removed these from my diet I noticed a big improvement in my health; my energy levels improved, my hives disappeared and my immune system started to improve.
What basic food principles do you follow?
I think it is really important to intuitively give your body what it needs to feel better. For me, I follow a simple, clean and natural diet. I like to eat nutrient rich, easy to digest foods that are anti-inflammatory and good for gut health and the immune system. Things like smoothies, soups, bone broths, fibre-rich veggies, seasonal fruits, grass fed meats and omega-3 rich fish are staples in my diet. While I mostly stay away from foods that are pre-packaged, processed or full of sugar, I think it is important to have a balance and allow yourself treats every now and again.
Do you think everyone should follow similar principles?
Everybody is different inside and out and I think that diets and food requirements will change from persona to person. It is best to listen to your own body and experiment with different ingredients and foods until you find what is best suited for you to make you feel better.
What advice might you have for someone who doesn't really understand the concept of 'listening to their body?'
When listening to your body, it is vital to be mindful about what you're feeling during and after you consume food. To do this, you must be completely present while you are eating. When you are stressed, upset or rushed, your nervous system goes into fight or flight mode. This reduces blood flow to your gut and makes the digestion process more difficult. At meal times it is important to put aside everything else so that you can focus on the food that is presently in front of you. Try to avoid eating while standing, working or checking your phone. Slow down when you're chewing and enjoy the different flavours and tastes on your palate. To give your digestive system all the support it needs to optimally digest your food, be mindful of what you are eating and the amazing process happening inside your body!
How do you deal with 'real life' issues that might get in the way such as busy schedules or a whole family to feed?
Having a busy schedule or a big family to feed sometimes makes us feel like we have no time to prepare and eat healthy foods. This can lead people to settle for prepackaged, processed or fast food that offer little nutritious value. A great way to deal with busy schedules is to plan, prioritise and have a regular routine during the week. Starting my morning with a healthy breakfast and some light exercise always sets me up for the day. I find that it also helps to plan your meals for the week, then you can have an idea of exactly what ingredients you will need at the grocery store. This not only saves time, but is also cost-effective since you can buy some things in bulk. Another way to get ahead of a busy schedule and prioritise healthy eating, is to get your meals ready at the beginning of the week. Sometimes I like to take a couple of hours on a Sunday afternoon to prepare food and snacks for the next few days. This makes it super easy when I'm in a rush or don't have time to spend ages in the kitchen!
Eating healthy can get expensive. Any tips?
Always try to buy fruit and vegetables that are in season and keep your eyes open for discounts! Buying certain products in bulk also helps when you're on a budget. Ingredients like beans and whole grains such as quinoa or brown rice are inexpensive and a great way to increase your meals.
Where can we read more about you and the support you offer to folks?
You can head to my
website
! I have a ton of informative blog posts, recipes, products and health and wellness support there. You can can also find more info in any of my best selling books or ebooks online:
Bookshelf.
I also offer programs and products that are great for gut health and overall wellbeing, you can find them on my website or in stores all over Australia, the UK, US and New Zealand!
Here's a few more goodies:
My love your gut powder
Golden gut blend