I love the flexibility of Gina's program...
I don't feel trapped in any sort of nutritional or exercise box.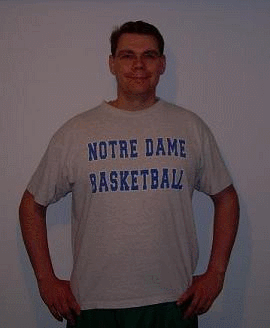 Aaron Hamlin has transformed his lifestyle since starting training with Home Bodies just two months ago, and he is loving the results. Aaron had been exercising at home for three years and had taken off some weight on his own by being conscious of his diet, but he decided to hire a trainer because he knew he had hit a plateau with his knowledge of exercise and nutrition.

"I really wanted to push myself to get into better habits, change my lifestyle and be healthier, and needed somebody to help me do that," says Aaron. "I took trainer-hunting seriously and interviewed many trainers before making a decision. I decided to go with Home Bodies because when I interviewed Gina she quickly understood what it was like to be an athlete who suffered with injury. She was completely willing to listen to my needs and my concerns about exercise and my injuries relating to exercise. She was honest and forthcoming and I got the sense this was about me and my goals. She instantly made me feel comfortable and offered support and encouragement. She told me she couldn't offer me an instant fix, but rather this was a lifestyle change that I would need to commit to or else it wouldn't work. I knew she would be ideal to help me."

"My experience with Gina has exceeded what I expected. When we go through the exercises and when we discuss nutrition, she always makes me feel comfortable. I am a pretty smart guy, but this is an area where I have some difficulty, and it can be humbling. Gina always reminds me of the little successes and makes me feel good about what I am doing. She doesn't just put you through the exercises; she offers lifestyle modification coaching and helps me commit myself to the change and build confidence in myself."

"When I started training with Gina, I was really just looking for weight loss, changing my body composition, and making sure I could exercise with as little pain as possible due to injuries. Because I am well on my way to achieving my first set of goals, my goals have changed slightly. I am happy with my weight loss, but I would like to focus on body recomposition even more, so I have more muscle and less fat. I am excited and pleasantly surprised that exercise is now pain free. I want to continue to learn new and interesting ways to exercise. I have built a base already. "I love the flexibility of Gina's program," says Aaron. "I don't feel trapped in any sort of nutritional or exercise box. I can still go out with my friends and to dinner. I know how to make better choices. I got in a rut and a plateau with my exercise before. Gina keeps it interesting. Home training allows me to start to achieve my goals and build self confidence in a safer environment, at home instead of at an intimidating gym. My work schedule is demanding, including travel, commuting and working late. With home training, I can keep the commitment to things I need to do in other areas of my life.

"One of the highlights so far has been that I had to go out and buy all new clothes! I have already lost 5 inches off my waist, hips, and chest (note: Aaron has lost even more since deadline!) This is a dramatic change, really exciting. I am almost exactly the same size as was when I graduated college 11 years ago. Not many people can say that! I have boosted my self confidence when it comes to coping with injuries, and also the ability to set goals and achieve them. I have been discouraged in the past not having a good roadmap to achieve my goals. Gina has really taught me how achieve whatever I set my mind to. My doctors said I couldn't do certain things. I have achieved them after all!"

"One of the things Gina does really really well is she encourages without being unrealistically demanding. She won't let me quit. She understands that outside influences affect people, but instead of allowing excuses, she comes up with options for dealing with it. If option 1 doesn't work she offers option 2, 3, or 4. She is so tremendously patient. She answers all questions no matter how many there are. When she is at my place, she always remembers what we had been doing and is 100% committed to me. I can tell me and my progress are the most important thing to her during that time. I get the sense she is investing as much in this as I am. I genuinely feel that she cares about me achieving my goals. She is very easy to connect with.

Outside of working out, I enjoy fly fishing, watching or playing sports, reading, watching movies, and hanging out with friends. Click here to read about other Home Bodies Clients of the Month.