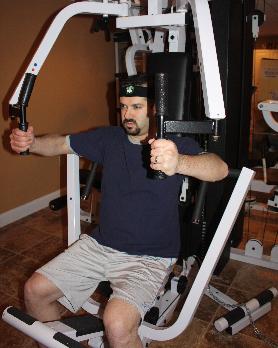 This home workout equipment guide will help you buy with confidence.
If you are looking at purchasing some home workout equipment, this guide will be a huge help!
It doesn't have to cost a fortune to set up your own "home gym." Even if you don't have a dedicated room for working out, a simple but complete homegym can be yours for less than $100. If you can spend a little more, you will be able to more easily breeze through your workout or purchase heavier weights to take you to that next level. 
A yoga mat and a set of dumbbells allow you to perform hundreds of exercises for all muscle groups, and even perform cardiovascular work via circuit training. These pieces of equipment can be stored in a closet and you can use them right in your living room. Many are unsure as to the best type of dumbbells to purchase. Here is a guide to choosing dumbbells for your home.
Individual Free Weights
Benefits

• Low cost per dumbbell—about 70 cents/lb
• Great for beginners
• Good if you don't need a bunch of different size weights
• Quick—you can just grab one and perform your workout—no setup needed
Drawbacks

• As you get stronger you need to keep buying more dumbbells
• Can take up a lot of space
• Buying a full set can cost a lot—up to $700 for up to 60 lb. weights
• As you grow your collection you will want a storage rack which is an additional cost and takes up space