I am going to share with you my absolute favorite high protein satisfying breakfast. It might seem a little odd, but don't knock it 'till you try it!
If you already have the beef patty on hand, this recipe takes less than 5 minutes!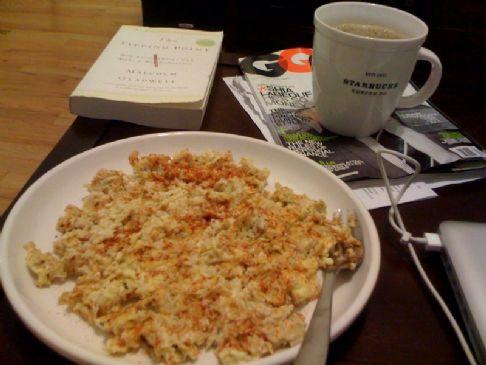 Amazing savory high protein oatmeal will leave you feeling satisfied.
Ingredients for the High Protein Oatmeal:
    *1 packet instant oatmeal (plain); OR 1/3 cup dry oats 
    *3 oz. lean beef or turkey hamburger patty, crumbled
    *1 egg
    *sprinkle of sea salt
    *fresh or frozen spinach (optional - cook in advance)
Directions:
1. Add 1/2 cup of water and the oats in a microwave safe bowl. Set for 90 seconds for instant oats, or 3 minutes for old fashioned oats. If using spinach, add it now.
2. Add the beef or turkey crumbles, then crack an egg and drop into the oatmeal.
3. Microwave for an additional 1-2 minutes depending how hard you want the egg to cook.
4. Sprinkle with a bit of sea salt, stir and eat!