Following a healthy diet for busy lifestyle isn't as out of reach as you'd think. Of course it's easy enough to eat well when you are home all day or you work part time. However, if you work crazy hours or you are always away from home driving the kids here and there it can get tricky.
Eating the right foods consistently throughout the day is the best weapon we have to keep your energy levels and your health in order.
The following 10 tips on healthy eating for busy lifestyle will give you some ideas on how you might improve your eating habits  in spite of having a crazy - and sometimes unpredictable - schedule.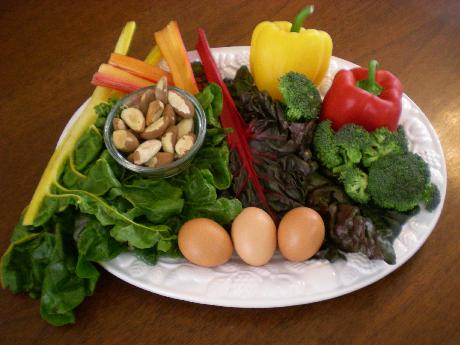 A healthy diet for busy lifestyle doesn't have to be out of reach - you can do it!
#1 Eat Breakfast
This one is an oldie but goody. We've all heard it, but tons of people STILL don't eat something within an hour or waking up, and it's a huge mistake for the average person.* If you don't have a huge appetite in the morning, have something small that contains protein such as a yogurt, a protein shake or a hard boiled egg. You can always have a snack later on, but you don't want to wait until lunch to eat. *Note: there are certain food plans that specifically ask you to skip breakfast. If you follow one of those plans, your 'breakfast' will be later in the day, but the same rules regarding protein apply.

#2 Have Healthy Snacks on Hand at Home, In Your Car and In the Office at all Times
The biggest reason people choose the wrong foods is because they find themselves hungry and there is nothing else convenient to eat. 100-calorie packs of nuts, fruit such as bananas, apples and clementines, or whole food bars made with nuts and dried fruit are good choices. If you have acess to a refrigerator, yogurt, string cheese, and veggies with hummus are good snacks.

#3 Have a Plan for Lunch
If you're working through lunch, the best is to bring lunch from home. You can also bring a healthy microwaveable meal. If you are going to get take-out, have a few go-to meals you can order out that you know are healthy, and stick to that list. Don't wait until you are ravenous to eat lunch—you will make poor choices. Make extra dinner the night before, and save a portion for lunch the next day. If you go to work after lunch, try to make lunch the biggest meal of the day to hold you over.

#4 Drink Tons of Water All Day Long
This is another oldie but goody. Water is even more important than food for our health and energy levels. There is no getting around the need for, at least, 64 ounces of pure water each day. Count how many times you fill up your water bottle and make sure you're getting enough. This will also help control your appetite.

#5 Managing the Late Dinner
A lot of working people and commuters have to deal with the issue of a late dinner. While not ideal from a digestion standpoint, eating late is not the end of the world as long as your total calorie intake for the day is not excessive. However, the main problem with a late dinner is that people get so hungry waiting for a late dinner that the end up overeating. Try to have a snack that contains fiber such as a piece of fruit or a whole food bar around 6pm when the average person would be eating dinner, and fill up at least 50% of your dinner plate with vegetables. Eat those first and you will not eat as much of the higher calorie items. You will also ensure you get adequate nutrients since vegetables are the most nutritious part of the diet.