What About Flexibility?
Gina Paulhus competing at the AAU Winter Nationals in the Ladies Division.
Any conditioning program worth it's weight includes a flexibility component as well. Flexibility is also about more than just 'looks.' Flexibility and mobility need to be addressed separately. Mobility is how the joints move. Flexibility is the range they can get to. Both are important for gymnasts. Depending on the gymnast's age and body type, different flexibility and mobility issues need to be addressed. I can offer plans to cover all needs.
1. A more flexible gymnast learns skills faster.  If the athlete's body can easily attain the positions needed, the skill becomes much more achievable and consistent.
2. A more flexible gymnast scores better.  180 leap? No problem. Open hips on your giant? Easy. Good shapes on tumbling? No big deal.
3. A more balanced flexible gymnast stays healthier.  More is not always better. There is an optimal level of how flexible a gymnast needs to be since stability and flexibility are usually two sides of the same coin. We don't want to sacrifice stability in the pursuit of extreme flexibility. We do want to maintain balance in the body, both with left/right side and with upper and lower body.
All plans include a basic flexibility list, with individual tweaks available during your free personal consultation.
See the full list of Gymnastics Conditioning Plans we offer, or receive a free sample one with the form below!
Ready to Get Serious About Your Team's Conditioning Plan?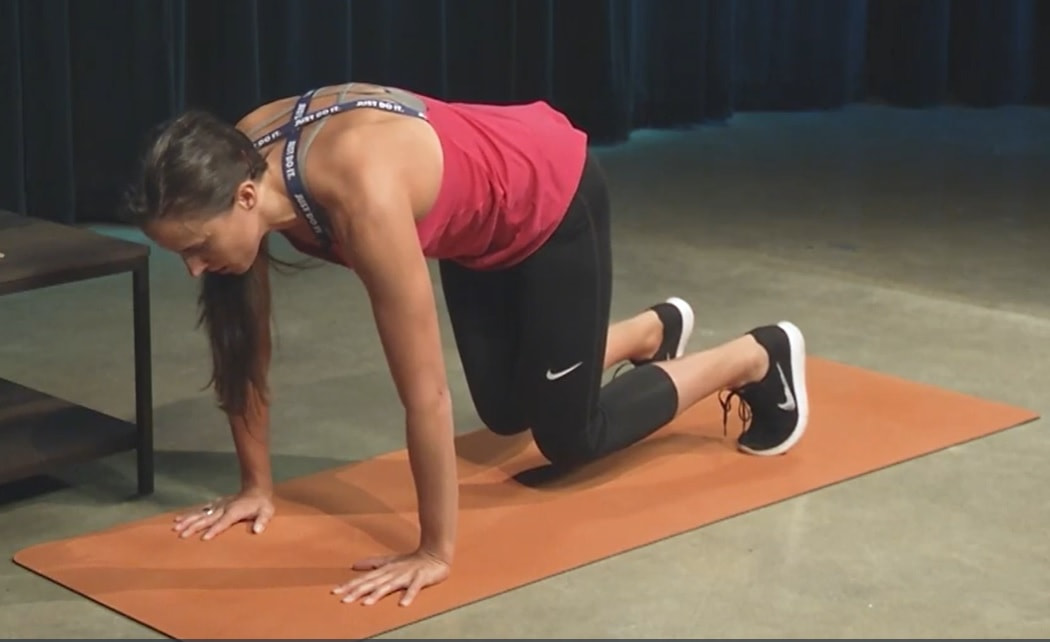 Gina has been a personal trainer and a gymnast for over 20 years.
Fill out the box below and we'll rush you a sample conditioning plan you can start using right away (for level 5/6), in addition to options to purchase general plans for each level, including JO, XCel, adult and rec. The plans are all created by Gina Paulhus, certified personal fitness trainer, JO athlete in high school and competitive adult gymnast. 
While the plans here are one single list, they provide a great starting point. We have options available to help you as your athletes advance or need the lists changed or updated. We are also available for custom consulting to create the perfect set of gymnastics conditioning plans for your team. These services are available online as well as in person. Just contact us and let us know what your needs are, and we will find an option that suits you!