Group Personal Training
Did you know that Home Bodies offers small group personal training? Personal training in a group is a good choice for many people for the following reasons:

Group personal training is more affordable, which means you can see the trainer more often yeilding better results.
Personal training with a group is just as effective as one-on-one training in most cases.
Group training is sometimes more effective than one-on-one training because studies show that people work harder and stick to a program longer when they exercise with other people.
Meeting friends for exercise keeps you coming back. It also adds social pressure where you will feel bad if you don't show up. This is a good thing as it will add to your motivation.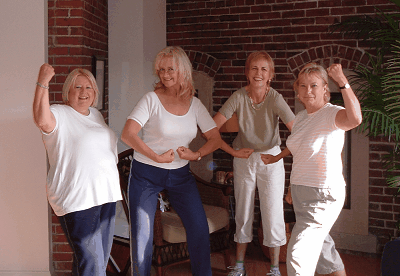 Group personal training is a way to share costs and make training more fun and social!
How Group Personal Training with Home Bodies Works.
Once you decide who will be in your group and where you want to train, Home Bodies can provide a price quote to you based on how often you want to meet. A Home Bodies personal trainer will come to meet with you and/or the members of your group to discuss goals of the group workout. It is NOT necessary for all members of the group to have the same goal. However, it may be necessary for each member to meet with the trainer one on one before beginning the group workouts in order to be sure that all conditions are accounted for and that the individual's personal needs will be taken into consideration.

 

couples training is a great choice.
I have had so many clients where I started out training the husband or the wife, and then the other of the pair wanted in! It's only natural when you have someone living in your home who is taking positive action on their health and fitness goals, that you would want to get going yourself!
Research shows that the more people in the same household doing the same health habits, the better the odds of long-term success! And you will  enjoy great savings when sharing the personal training hour with another person.
price quotes for group personal training

If you would like more information or a price quote on group personal training, please fill out the form below.