Fitness saves the day part two! If you missed part one, read about it here. Hear about how my husband and I tackled our first slot canyon out in the deserts of Utah! I also experienced a real turning point in my recovery from chronic pain that has to do with identity during this adventure. So much of our physical experience is tied up in our identity, and shifting identity can be really powerful.

Slot Canyon Adventures (Gone Slightly Wrong)
I was fortunate enough to go on vacation to Utah earlier this fall with my husband Bryan. This was a very active trip where we visited 5 national parks in the span of 9 days, and I was really looking forward to it! It was also my first trip involving a plane in 4 years where I had been capable of going for a walk, let alone a hike, due to the chronic ankle pain I have lived with since 2016. In fact, I needed a wheelchair to navigate through the airport the last time I flew in early 2020. I was pretty stoked to make it an amazing trip after all I had been through with my feet, as well as all the restrictions we all lived with during the height of the pandemic.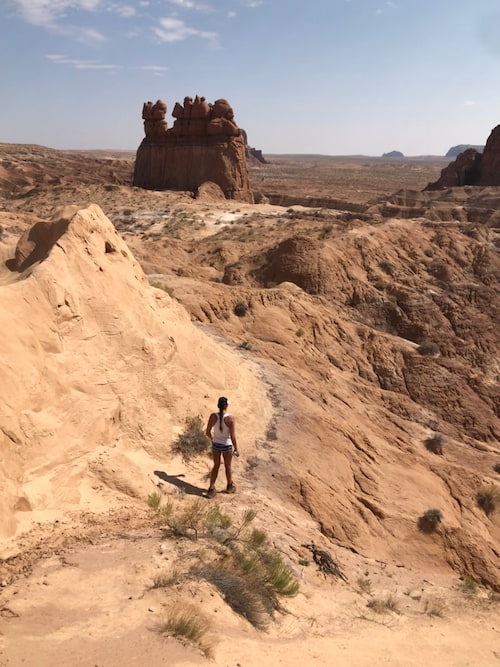 We had it in our head that we wanted to check out a slot canyon, but we didn't want to do one that required a guide. We were able to find a canyon that you could visit guide free, but you had to walk across several miles of virtually unmarked desert trails to get there. We trekked through sand in the middle of the day with the desert heat beating down on us. We got mildly lost a few times too, which naturally extended the hike.
Once we finally got there, I noticed everyone else's wives stayed back and didn't enter the cave. But being slightly crazy I figured, "I can do it! I'm in shape! I was a gymnast! This will be FINE! The AllTrails app listed it as only a moderate hike. How bad could it be?"

Did you read about my other Fitness Saves the Day Adventure? Check it out.
The first red flag was that I had to do a full body dip at one point to get down into the cave. After exploring the cave for a bit and taking some pictures, it was time to climb back up. I thought of asking Bryan for a hand so I could step on him and get out more easily, but I wanted to show I could do it on my own (silly me).
He offered to spot me if I had trouble, and I trusted that he would be able to do it as he's very strong and he was a gymnastics coach back in the day. Sure enough the reach was a bit too long for me. I remembered now that everyone I saw successfully climb out was pretty tall (now I realized part of why the wives stayed behind...)
I reached to grab a rock that was a bit too smooth... and I fell off the rock, luckily back and right into his arms! He was standing on some slippery rocks himself so I can't believe how good he was at catching me! It was a pretty jolting catch and I really had to brace my core, but we both were 100% fine! I was tremendously grateful for both of our fitness levels in that moment! I then accepted the help and stepped on his hands in order to more easily climb up to the next rock. I then turned around and gave him a hand to help him get out. Because he is wiser than me, and after he watched what happened with me, he immediately accepted my help :)

From there the rest of the climb out of the slot canyon was manageable and we were pumping full of adrenaline. We were out there mid day, and it turns out we saw no one else for the whole walk back through the desert. By then it was just too hot to be out there. That means that, God forbid if something had happened, no one was coming along to help us. Yay for fitness saving the day once again during my adventurous vacation! Next time, I will not be so reckless, but I am fortunate it worked out for me in that moment, and both of our fitness levels were where they needed to be for us to escape this situation unscathed. 
Rewriting My Story
Later on in the trip, I encountered a woman who was having trouble navigating what really was a pretty easy trail. She was using poles and moving very gingerly. She told me that she had two bad ankles but she was finding that the more days in a row she hiked the more confident she was in her ankles. Instead of chiming in as I would have in the past with, "Oh I have two bad ankles too, I totally get it" I simply wished her the best and told her she was doing a good job. I really felt good in that moment about that fact I no longer carried an identity of someone with bad ankles.
I have been working very hard on corrective exercises to help undo some of the damage I have done over the years to my body, between pushing it super hard in weight lifting, to decades of high level gymnastics, to surgeries that left my body functioning far below it's peak. All my hard work paid off in that moment when I conquered the cave, which hopefully is the first of many that I will get to see!
What Types of Things Would You Love to Be Confident Enough to Do (Or To Do Again?)
Don't be afraid to dream big! I had so many doctors tell me that I would have to get used to never being able to go for a walk again, and that was true for a while. I even was given a handicapped placard to use at my worst. But I was able to figure out some things for myself that allowed my body to heal. For me, my foot pain seemed to come primarily from dysfunctions in my back. By working on my back muscles and ranges of motion with specific targeted exercises, I was able to get on top of the foot pain and go back to living life on my terms.
I currently spend time every day teaching some of the same corrective exercises that I used to heal my own body and improve it's functioning to clients both virtually and in person. If you have a limitation that you believe is structural and you would like help learning corrective exercises that are catered to your specific needs, fill out the form below! Let me know how I can help. I am connected with a team of Doctors of Physical Therapy who helped me learn how to heal my body, and I can utilize their knowledge to assist you in your own healing process, too!