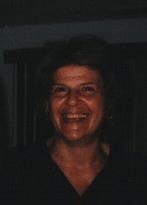 "THANK YOU GINA
for making me believe I can succeed at this!"
Home Bodies Client of the Month for November 2005 is...
Carol Jacobs of Waltham, MA!

Carol Jacobs is no stranger to diet and exercise--she has been involved in various programs over the years to keep in shape. Weight has always been a struggle for Carol. She works out with Gina three times per week now, but before working with Gina she had attempted to get in shape at a gym, but was not thrilled with the service she received. Carol explains, "Once you enrolled, the people there do not seem to have much knowledge unless you hired a personal trainer, and trying to arrange a schedule with them was extremely difficult." However, Carol exercised there for 1 year, and usually went three times a week. "I didn't feel like I was making any progress," says Carol.

"I saw Marla seeing results working with Gina, and Marla encouraged me to try it. Setting up a program where I scheduled three times a week really made the difference in my commitment level."

Her goal when she started with Gina was not only to lose weight, but also to tone and firm her body as she lost the weight. In the past, her weight loss was slow and tended to come from only certain parts of my body. Now, with the weight training, Carol is trimming down all over.

"I like the variety of exercises we do each workout. I'm eating healthier, and Gina has always been on time--even at 5:30 or 5:15 each morning. It pushes me to stay committed." At home, Carol tries to walk at least 30 minutes on days that she doesn't meet with Gina. Sometimes she gets in a two-and-a-half mile walk. Her favorite place to do that is at her family's beach house in Plymouth--she likes the hill workout and the scenery there.

Carol started working with Gina in July of 2005. She has lost 25 pounds so far, but even better is the fact that she's lost 1 1/2 inches off her arms, 5 inches off her waist, 2 1/2 off her chest measurement, and 3 1/2 off each thigh. Her bodyfat has dropped 6%. She loves the fact that she looks better in her clothes and has dropped some clothing sizes. "Those crunches are paying off!" says Carol.

"Home Bodies has exceeded my expectations of what I would get out of a personal trainer or a fitness program," says Carol enthusiastically. "The encouragement Gina gives me as I do each exercise helps me get through the last three or four reps when I may have otherwise just stopped. Gina gave me the 'I can do this' attitude!

Carol hopes to lose about 25 more pounds and hopes to be a toned size 11/12 when she is done losing weight--"If miracles don't cease—maybe a size 10!" says Carol. Carol didn't believe she could ever fit into a size 10 again when she started training with Gina, but now she is a believer! More than anything, Carol just wants to be able to shop for clothing more easily--that will be quite a treat. "No more plus sizes!" says Carol.

"I've liked the way Gina explains each exercise and how it will help. She is my coach but has also become a good friend. She inspires me and makes me feel like I can do this. According to Carol, the process of getting in shape with a personal trainer can be broken down into three steps: make the commitment, make the time, and know that Gina will be there for you. "A personal trainer truly cares about you! She wants you to succeed. You need to be honest with her and follow her advice."

Carol is from Waltham, MA and is a math teacher in Waltham. Carol and Chuck Jacobs have been married 25 years. They have a son Brian, 20 and a daughter Kim, 23. Carol enjoys spending time with her family, especially during the summer at the beach house. She loves taking long walks along the ocean, reading, cooking, and playing Scrabble!

Click here to read about other Home Bodies clients of the month!