Darlene Mack of Lynnfield, MA is Home Bodies Client of the Month for May 2006.
"The results happen pretty quickly, so you get the reward starting in the first few weeks, and even long-term goals happen before you know it. I feel like I just started, and I've already reached my long-term goal."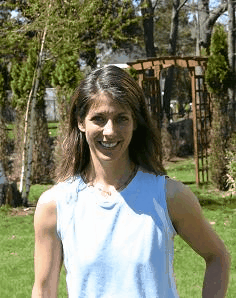 Darlene Mack has fully taken advantage of all that Home Bodies has to offer, and it's because she is a highly organized and motivated person when it comes to exercise. Darlene started with Home Bodies back in January of this year, and in just three short months she had already achieved her goal of being around 110 lbs. with more muscle and less fat than before! Darlene has been a member of Gold's Gym. Like many of us, she exercised consistently some of the time, but not all of the time. Part of this inconsistency was due to having four children in a six-year period of time--she has spent a lot of time being pregnant recently!

Darlene tended to favor cardio over weight training when she didn't have a personal trainer designing her program, although she came to realize that you needed to add weight training to your cardio routine to achieve the best results.

"I really didn't know what I was doing, so I kind of did it on my own, I made up my own routine using the machines," says Darlene. "However, I really didn't know what weight I should be using or which machines I should be doing." Her friend Doug Alexander has been using Gina Paulhus as an in-home trainer for the past year, and recommended that Darlene give Gina a call. "I really didn't shop around," says Darlene. "I just trusted Doug's recommendation. It was obvious that his body had been completely transformed in the time he had been working with Gina."

"Little adjustments in form made the exercises I already knew so much harder," says Darlene. "The form I was using was 'taking the easy way out', but I wasn't doing it on purpose," says Darlene. "I just didn't know how to do the exercises properly to make them most effective. I was not focusing on the muscles I should I have been. My workouts are shorter now but more challenging. I never tried interval training before Gina showed me how. My cardio was definitely getting a little stale. The home workouts make it much easier to get all my workouts in for the week. "

Darlene continues, "I have lost the weight I was hoping to lose, I have some more muscle definition, my clothes are fitting better…it's all the things I had hoped to achieve. I get a lot of compliments. When you weight-train you just get smaller. My body composition has transformed. I see this program as something I can follow for life. I do enjoy it and it's all user-friendly stuff. The workouts are not a huge time commitment--it's less than I used to do.

The diet help Gina has given has been a huge help. I had small bad habits in my diet that I knew existed but didn't pay too much attention to. I have been following the specific tips that Gina has given me. She critiques my food log on a daily basis, and then I can use the notes to help me make improvements. Being an at-home mom with kids, the biggest thing for me was writing down everything I put in my mouth, because it keeps you honest and helps you avoid eating extra kids food. If you're writing it down you're less likely to forget things."

Darlene says, "I have come to realize that if you fail to plan, you plan to fail. That is one of the chapters in Gina's book, 'Mind Over Fatter.' It's worth it to plan ahead what you think you are going completely different things for everyone. However, you really have to focus on your own meals just as much as you focus on your kids and your spouse or anyone else if you want to get results. No one else is going to help you with your diet."

Darlene has found tremendous value in her bi-weekly sessions with Home Bodies. "If you are thinking about hiring a trainer but haven't made the step yet, I just want to let you know that it's worth the investment if you are committed to following the basic strategies. All you have to do is follow the advice and you will be happy with the results. You will need to take it seriously and make the commitment, though. The results happen pretty quickly, so you get the reward starting in the first few weeks, and even long-term goals happen before you know it. I feel like I just started, and I've already reached my long-term goal.

I am very impressed with Gina overall. She is really knowledgeable in all areas of working out, including the diet, the weights, the cardio, the stretching, and the supplements. Her approach is no-nonsense but also user friendly. The program is not intimidating, and it's even kind of fun! My personal experience just from starting in January has been really positive, I recommend Gina to anyone who asks who is interested. I look at it like, you have nothing to lose by trying a trainer. For me it was exactly what I was looking for. You can always stop if you don't like it! Gina never pressures you to continue. She really cares about your needs and wants you to be successful.

Darlene grew up in Springfield, MA and now lives in Lynnfield with her husband Neil and her four children. She enjoys reading, going to the beach, and traveling (when she can get away). She is addicted to Survivor and the Apprentice!

Click here to read about other Home Bodies clients of the month!