"Hiring a personal trainer and following a program is well worth the time, money, and effort you put into it. The benefits well outweigh the time and the cost."
Andrea Bates of Medford, MA is Home Bodies Client-of-the-Month for April 2006!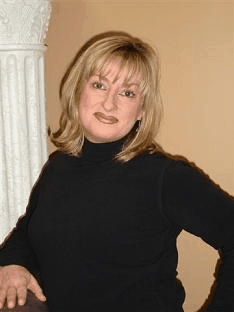 Andrea Bates has been a member of many gyms and followed many fitness programs in the past. However, she knew that she was not focusing on exercise and eating well as intently as she could. Like many of us, Andrea would find herself doing great Monday through Friday, but would sabotage herself on the weekends, particularly with letting her healthy eating patterns go down the drain. Sometimes, such as during the holidays, Andrea would let working out slip as well, because she figured since she wasn't making any weight loss progress from week to week, she might as well skip working out for awhile, too.

Andrea knew much of what to do, but she wasn't always holding herself accountable to doing it. She also wasn't incorporating much weight training into her programs. Her exercise was mainly cardio-based and she wasn't eating enough protein. Still, she had a pretty good grip on what she should be doing to reach her goals—even to the point that she knew she needed to learn some weight training to fully maximize her results from exercise. She filled out an online quote request for personal trainers, explaining that she needed a program to be accountable to, and some lessons on weight training.

When Gina responded to Andrea's request, she explained that Home Bodies could offer much more than just weight training lessons. Andrea thought it looked good, and signed up for the "New You" package that provided 13 weeks of exercise instruction, nutrition advice, goal-setting help, and habit-changing coaching.

This turned out to be quite a good idea, because Andrea has had noticeable results in less than three months of training. Andrea knew she was in need of a more organized way of approaching her exercise and nutrition, and she certainly got it! Gina set up her weight training programs right away and began coaching her on cardio techniques and diet. Andrea had never used a trainer before, but was pleasantly surprised with her experience—so much that she will continue training with Gina even after her 13-week "New You" package runs out.

Andrea could have chosen another personal training company as many of them travel to Medford, but she chose Home Bodies because she was impressed with the website and also because Gina responded so quickly to her request. Andrea says, "Upon meeting Gina for my consultation, I just knew it would work. I have never used a personal trainer before, even though some of the gyms I belonged to in the past offered them. Having a trainer like Gina has been even better than what I expected. I (and everyone else) can see the change in the way my clothes fit and the definition in my body."

Andrea continues, "When I started, I wanted to lose weight, become more toned, and get a better handle on being consistent and eating better. All of this is definitely happening for me. My clothes are getting looser, and I have been much better about my diet, in particular being conscious about increasing my protein intake. I like the weight training, and the fact that Gina mixes it up. I never know what to expect when she comes," says Andrea. "The home training fits my work schedule, my life, and my personality better than the gym. I also notice that I have become a little more focused for my work. I definitely have more energy, and I can definitely fit more into one day! Also, I really appreciate Gina's no-nonsense approach. She possesses such vast knowledge, which is especially impressive for someone so young. She is very easy to connect with.

Gina may possess a no-nonsense approach to training programs, but Andrea possesses a "no-nonsense" approach to life in general! This really comes through in her workouts and following her diet. When Andrea sets her mind to do something, there appears to be no stopping her. This trait has made her successful in her personal life, her business life, and now her health and fitness. Andrea has lost 12 pounds of bodyfat in less than three months. She has lost 4 inches off her waist, 2 inches off her hips, and 1 inch off her thighs. She has shown a significant improvement in strength, balance, endurance, and flexibility.

Andrea has a firm belief that hiring a personal trainer and following the program is well worth the time, money, and effort you put into it. The benefits well outweigh the time and the cost. From the standpoint of a professional, Andrea explains, "Personal training will give you a better edge when you approach your work. When you feel better and are physically in shape, you will perform better and your mental state will improve. As a professional, hiring a personal trainer is a relatively modest investment compared to the costs of some other things most people spend their money on, yet it gives back so much."

Andrea is from Medford, MA and has lived there her whole life. She is an insurance broker and a financial planner (www.batesins.com). She enjoys spending time with her boyfriend Pedro Bonifacio, who happens to be from Toronto, Canada. He is looking to relocate to Massachusetts in the near future. Andrea also loves to travel—her favorite trip was Australia. Much of her traveling up until now has been abroad, although she plans to explore the U.S. more completely in the upcoming years. She enjoys playing golf, and watching football and hockey.

Click here to read about other Home Bodies clients of the month!