"When it comes to working out and getting healthy, most of us
(me included)
just plain lie to ourselves."
Client of the Month for March 2005 is...
Doug Alexander of North Andover, MA!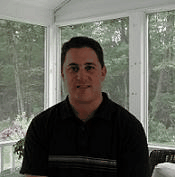 Doug Alexander began training with Gina just four weeks ago, but he's already showing tremendous progress: he's eight pounds lighter than when he started, and he's becoming more and more fit by the workout. This is partly due to his muscle memory, because he has been in great shape in the past—but also due to his dedication and hard work.

When asked what programs he has followed in the past, Doug replies, "I have tried them all!" 10 years ago he worked out 5 days a week with weight training and cardio. Doug has a familiar story: after getting married, starting his family, and coming into more responsibility at work, he began to fall out of shape. Now he's carrying an extra 30 pounds that he wants off!

Doug found Gina by searching on the internet for local personal trainers. He explains, "My first goal was to lose weight, a lot of weight, but to do it correctly, over time, and then be able to maintain the weight loss. I want to get back to my ideal weight of 165-170. Twice before, I had gone on the Atkins diet and was able to lose over 25 pounds each time, and lose it very quickly. However, once I stopped, the weight came back on even faster than it came off. This just did not seem healthy to me, and the last go-around, I got pretty run down from that diet. Also, I had to go on blood pressure medication at a very young age and was told I had to start exercising and losing weight to get my blood pressure under control without drugs. I have heart disease in my family, and I want to prevent heart problems early in life like my father had. Getting a coach and getting serious finally seemed like the thing to do.

He continues, "I have played sports all my life and had many coaches who motivated me and taught me a lot. I finally decided, due to the many failed attempts to get healthy on my own, that I needed a coach again to teach and motivate me. It worked in the past!"

Doug thought a home trainer would work out best for him. "Gina was able to fit me in early Saturday mornings every week, which was great—I'm not sure I'd find that with a lot of trainers. Upon meeting her, it became clear to me quickly that she is an expert. What I thought I had been doing correctly was wrong. Gina explains why she has me doing what I'm doing, and it all makes sense. So far, this program has exceeded my expectations. It has only been four weeks, but I am excited to continue to learn and follow Gina's program as it changes and gets harder. During my first workout with Gina, she told me that she will actually 'fire' her own clients. She explained that if she works with someone and that someone is not following the plan and remains overweight and out of shape, it's not good for her business. As soon as I heard this, I knew I found my coach, great motivation for me at least.

You can't beat the accountability that comes with having a trainer. I see Gina in my home every week at a convenient time and have to answer as to whether or not I did my workout and diet plan correctly for that week. Each week, we review my diet and exercise log that I keep myself, and Gina gives me diet advice and refines my workout routine that I am to follow for the coming week. Right now I work out 6 days a week: 3 days of weight training and 3 days of cardio workouts. Alternating these on different days is working well for me right now. I have the makings of a home gym that I had started to piece together and enjoy working out at home more than going to a gym. Gina is also giving me advice on ways I can round out my home gym which is great.

I can no longer say to myself, 'I'll start on Monday' because I know Gina is coming to see how I am doing. I find that I make working out a priority now, and what I thought I did not have the time to do before, I have miraculously been able to find the time for. I feel less tired, less stressed, and have more energy. Something about working out and knowing I am trying my best improves my overall mood. In the past, when I attempted to work out, I would try to do way too much in a short period of time. Being so out of shape and trying to keep up a pace like that just had me quitting each time. Gina has started me out at a good pace for the level I am at now. I have been able to follow her plan knowing it is going to show results and get harder as I go, but not before I am ready.

Doug and his wife Kris live in North Andover with their three sons: Matt, age 8, Zach, age 5, and Quinn, age 3. Kris also trains with Gina. Doug grew up in Peabody, MA and has lived with his wife in Boston and New York City. He works for a media company specializing in high tech. He loves to spend time with his wife and three boys. He loves all sports and plays a lot of golf when the weather's good (like it's been lately, right everyone??) He also likes to read and travel with the family.

Doug tells it like it is:

"Just from my own experience, when it comes to working out and getting healthy, most of us (me included) just plain lie to ourselves. We make excuses and look for the magic diet, magic exercise, or magic pill, and there is always a reason that we can't find the time to exercise. The bottom line is there is no magic, all diets will work, and we all have the time to work out. It's not easy, but it's a simple formula: Burn more calories than you eat and you lose weight, so stop over eating! Gina stresses portion control; it's a great point that so far is working for me. Exercise properly and you will be in better shape. There is no magic here. If you have the will, everything else falls into place. I have not been able to do this simple formula for ten years. We all need help in life. With Gina's help, I know I can find the will and stop lying to myself!"


Click here to read about other Home Bodies clients of the month!