"Call Me Crazy,
But I Actually Like To Exercise."
Home Bodies Client of the Month for March 2004 is...
Sue Anderson of Kittery Pointe, ME!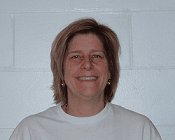 Sue Anderson is from Kittery Point, ME. I met Sue at the Seacoast Family YMCA in Portsmouth, NH. Sue had already made exercising a part of her daily lifestyle. She decided to work with a trainer to mix up her workouts for better results.

I have been working with her since July 2003. Sue has been able to increase her fitness level in the midst of a busy family life and while working and commuting full-time. It's not easy to organize it all, but she makes sure to get those workouts in and she's had good success reducing the refined carbs in her diet. She works as hard as anyone I have encountered during my career as a personal trainer, and has a high fitness level as a result.


Click here to read about other Home Bodies clients of the month!