"You could say I am a fitness info-mercial junkie. I have spent a ton of money at 2 and 3 in the morning on that stuff…and I was still "The Chunky Guy."
Home Bodies Client of the Month for February 2006 is...
Steve Greenfield of Townsend, MA!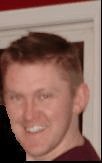 Steve Greenfield is fit, trim, and healthy, and is dating a personal trainer…but life wasn't always like this for Steve. He was 55 pounds overweight not too long ago—but perhaps most importantly, according to Steve, "my self confidence has gone through the roof!"

Steve Greenfield, of Townsend, MA, has been training with Home Bodies trainer Rhonda Grigas since October 2005. Steve is originally from England. His housemates consist of his two beloved dogs, Willow and Brady. One of his dogs is a Weimaraner and the other is a Labrador mix. Steve's dogs have turned out to be great for his fitness regimen, because not only does he walk them on a daily basis, but he also takes them hiking on weekends. Steve has fallen in love with hiking, and it's great exercise. The Stow Dog Park is a favorite destination. Steve is a self-admitted "Big dog person." He never hiked before getting the dogs, but it's a good thing he got them, because he met his current girlfriend while out hiking. "She never would have even looked at me before [I got in shape], says Steve.

Flash back to before Home Bodies, and Steve wasn't in a good place physically. He is a division funding manager in the mortgage business, and if you know anything about that business it can be highly stressful and sometimes long hours. Steve also faces an hour-and-a-half commute to work each day. After that, who wants to stop at the gym, once they are finally home for the day?

Steve has joined a number of gyms and planned to work out regularly, but found he wasn't consistent with it and he felt like he had no direction. While watching last fall's "The Biggest Loser," an NBC reality TV show about weight loss, Steve got the idea to hire a trainer. He knew he'd prefer working out at home, but realized that he needed help. In the past he didn't push himself in the gym and didn't make workouts a priority. He was hoping that would all change with the right trainer. He knew it would never work for him to try on his own, because he's tried so many times. He performed an internet search for in-home personal trainers and submitted a request for a trainer to Home Bodies. He was looking for someone who could meet him at home and design a home workout for him to follow on his own. He also wanted someone who would push him to be his best.

When Steve asked to be pushed, he really didn't know what he was in for! At Home Bodies we listen to the client's needs. Some clients want to be introduced to exercise slowly, while others demand that we push them to their limits. Steve asked, and we delivered! Training with Rhonda is, "A lot tougher than I thought it would be," says Steve. However, Steve could sense that Rhonda wouldn't let him quit, which has made the whole process feel more do-able. He also feels a sense of obligation to Rhonda and would hate to let her down by quitting. Steve loves the fact that Rhonda is so down-to-earth. She knows that you might want to give up on that last push-up or go get a candy bar after training, but she pushes you to hold yourself to a higher standard. Rhonda comes across as very "real," because she has done it herself—Rhonda went from 200 pounds to a lean and trim 140, and she did it through working out and eating healthfully. Rhonda knows and understands the real-life demands. This is good because she understands that sometimes workouts will be missed because something else scores higher in the priority system that day. At the same time, however, Rhonda knows that, if you get creative, you can overcome most obstacles. She won't let you put yourself last, at least not on a regular basis. She can call you out on your bluff if necessary. One thing that has amazed Steve is the way that Rhonda has me doing highly effective exercises with a simple fitness ball and set of weights. "You could say I am a fitness info-mercial junkie," says Steve. "I have spent a ton of money on gym equipment-- at least $10,000 in gym equipment. We do use some of that equipment, but the majority of our work is done with just a fitness ball and a set of weights. I get the impression that Rhonda could plan my entire workout with just the ball and the weights if she had to!"

Steve's main goals when he started training with Rhonda were to tone up and lose his belly weight. He has gone from 227 lbs. and a size 38 to 186 pounds and a size 32! Steve would like to get down to 170 eventually. He has a trip to Hawaii planned this September--His ultimate goal is to be able to take his shirt off and not feel self-conscious. He has already gone out and bought a smaller pair jeans. Steve was gutsy enough to give his "fat clothes" away to charity! There's no turning back now, Steve!

Steve spent most of his adult years being quiet and withdrawn. One of the reasons is that he was worried about how to look in the mirror. He has found that people stop to ask him what he is doing that leaves him looking this good. Now he hands out fitness advice!

Steve used to regularly put in 10-15 hours of unpaid overtime, but now he finds that, with extra focus and energy, he is able to finish what he needs to do during the 40-hour workweek. Steve uses Sundays to cook up a storm, preparing meals for the entire week and bringing them into work. Steve explains, "Sure, it takes discipline, but my entire life has changed. I feel amazing!" I will never go back to the way I used to live…nor would Rhonda let me!

Click here to read about other Home Bodies clients of the month!